Economic development and the digitalization of the financial world helped the definition of FinTech to emerge. The term was first published in The Sunday Times by Peter Knight in the 1980s, but the real development of FinTech technology began with the 2008 crisis, which was able to highlight many of the technological problems of the existing financial system.
By 2021, investment in the global financial technology sector reached one of its highest historical levels, approaching $210 billion. Some venture funding rounds have closed in excess of $1 billion (Generate, Nubank, Chime, FTX, EMEA, and Klarna), indicating significant demand for FinTech.
Also, several centers have already been formed to develop and attract financial assets for the development of this sector of the economy.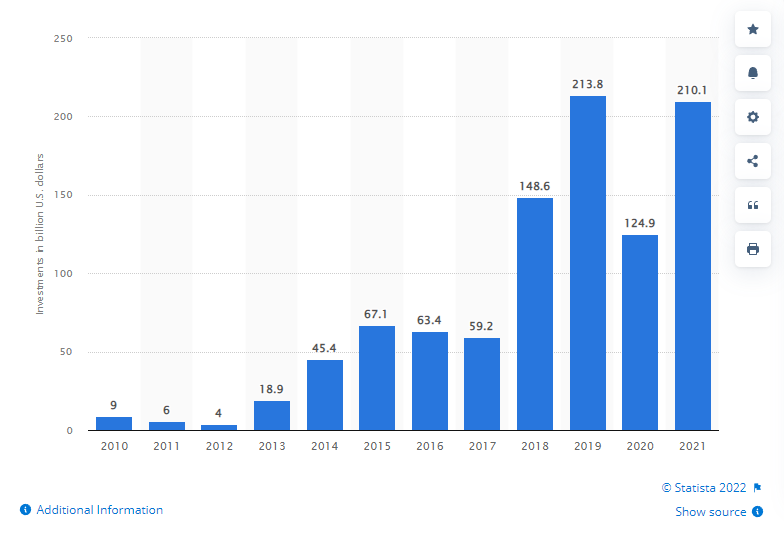 The recognized FinTech capital of the world today in London. The capital of the United Kingdom was able to attract a record $764 million for the development of more than 114 projects in the field of financial services. This is more than any other city on the planet.
In second place is Dubai, which is becoming a center of attraction for FinTech startups and investment in them. This is followed by Singapore, Paris, and New York.

Components of FinTech
FinTech is a vast concept and includes numerous services and services focused on the development of the digital economy and the adaptation of the classic monetary system to it.
In general, the concept of FinTech today can be associated with products in the areas of:
Digital Lending
Blockchain and Crypto.
Tokenization of economy and business
Personal Finance
Payments
Digital Insurance
Capital Markets
Wealth Management
Digital Money Transfer
Digital Mortgage
In general, for the FinTech industry and startups, which are launched now in this sector, there are common trend characteristics in which direction many companies prefer to develop. For example, current areas of fintech development are contactless services and subscription-based products, quick payments with minimal fees, ensuring joint ownership of property, voice and video interfaces, a transition from Big Data to microtargeting, green initiatives, abandonment of deposit policies in favor of investment management, fintech education, and development.
The Role of FinTech Marketing
The role of FinTech marketing is close to the role of project promotion in any other market. The main tasks of fintech marketing are to increase the brand awareness of the company and to attract investment in the project.
The key difference probably lies in the importance of this role: the service offered by a fintech company is less standard and recognizable, which means that more people may not understand and accept the use of the new service. Fintech marketing here plays a big role in attracting the client, is responsible to the whole team, and directs all efforts to promotion. Its role is amplified many times over.
FinTech Marketing Opportunities
Fintech companies offer innovative and maximally new approaches in the industry, which means that fintech marketing is promoting a new and unconventional product. This opens opportunities both for the application of approved promotion tools and new promotion ideas.
Fintech marketing strategies respond quickly to consumer trends in fintech; testing of ideas can take place in a freer form, and the innovativeness of the product helps to choose the most trendy approach.
What's Important in FinTech Marketing: What Are the Most Relevant Strategies?
The Memorable Brand of the Fintech Market
The multiplication of the FinTech industry has expanded consumer choice several times over, from the variety of Digital Lending to the use of blockchain and company tokenization. This is a positive trait for customers, but it is also a tense, competitive environment for fintech. There are a lot of integrations, new startups, and even the classic banking industry representatives who want to sell themselves in this area.
This means that financial marketing must become even more effective and build on a distinctive, memorable company brand.

A Clear, Unique Offer for the User
To make your FinTech company's services stand out in the variety of market offerings, and as one of the points of creating a distinctive brand, financial services companies must formulate a clear value proposition for potential customers that will favorably differentiate them in the marketplace. This is your main advantage over your competitors, which will help you to occupy your niche in the financial services market.
This offer must be broadcast as much as possible through your points of interaction with the audience: public websites and applications, the company's social networks, and influencers.

Use Modern Technologies Both in the Product and in Your Fintech Marketing
Financial services imply the use of modern technologies not only in development but also at the stages of promotion and composition of fintech marketing tools. Artificial Intelligentsia (AI) tools used to create unique services can help when crafting a marketing strategy.
Intelligent interaction with the customer through virtual assistants and bots, modeling audience preferences, predicting consumption, and using unique customer statistics make digital marketing more targeted and faster, and most importantly, it maximizes identification of the target audience and interacts exclusively with it.
The Mandatory Mobile Version of the Project
Statistics from the last decade tell us that more of our time spent online is spent on mobile devices. And the pandemic has only reinforced this trend, which means a successful fintech project cannot ignore the mobile version of the product.
Faster service provides a competitive advantage over traditional financial companies, and the mobile version is one of the most effective implementations of that speed. Now, if a consumer can't do the required transaction easily and easily on a smartphone, he doesn't come back to the product anymore.
Social Media Marketing Strategy
According to statistics, in the last year, the growth of social media users in the world was more than 424 million people, or almost 1 million people a day. Therefore, it is impossible to ignore marketing in social networks now.

Of course, you don't have to use all the suggested platforms to communicate with your audience. Choose the right social network for your marketing strategy and focus on working on it. It could be LinkedIn, Facebook, Instagram, or even TikTok—any option that fits your financial project.
Do some preliminary research on your target audience. Find out which social media platforms they prefer. Adapt your content personally to your audience's needs and the technological type of social network.

Increase Audience Engagement Through Content
The generation of millennials who are most actively interacting with the FinTech industry product today values attention and feedback from the products they use. This fact helps in building a FinTech marketing strategy, as it provides an opportunity to increase user loyalty to the brand, create a more targeted, personalized approach to each customer, and emphasize their uniqueness and value to the company.
Use maximum opportunities to interact with your audience in social networks (likes, retweets of posts, replies to comments), in educational content (specialized webinars or customer assistance channels), and in general marketing activity (contests and airdrops).

Influencer Marketing
Increase brand awareness and understanding of your company's services with the help of your team of brand ambassadors and market influencers. These can be celebrities hired as endorsers, as well as active community members, experts, and market analysts.
This type of promotion increases awareness of the FinTech brand and helps attract new users who only get acquainted with opportunities of a company.

Examples of Successful FinTech Marketing Companies Financial Brands
Cryptocurrency exchange Crypto.com Coin has chosen to develop a large multi-million dollar brand that will be associated with the successful use of cryptocurrencies in life.
To form such a brand, the exchange has entered into several Influencer agreements, including a famous collaboration with actor Matt Damon, who has become the face of this marketing pitch.

The Crypto.com team conducted a large-scale visual campaign, presenting its slogan "Fortune Favors the Brave" on billboards in Brazil, the U.S., Israel, and Singapore—20 countries and 5 continents.
Crypto.com has the biggest naming deal in sports history on its billboard in late 2021. The Staples Center, a multipurpose sports complex in Los Angeles, the home arena for NHL, NBA, and WNBA teams, was renamed Crypto.com Arena for $713 million and a 20-year term.

These efforts have helped Crypto.com grow to the top 10 largest exchanges in the world and become one of the most mentioned cryptocurrency platforms on Twitter and Reddit.
Robinhood
The fintech startup Robinhood used several valuable types of marketing strategies at once, which gave high results of recognition and growth of the application's usage.
Investing is simple here – the company's main brand slogan reflects their core Robinhood brand concept – accessibility and simplicity of investing in the stock market and cryptocurrency. Robinhood's initial focus on the mobile app, its value proposition of commission-free trading for clients, and current product upgrades to digital currencies and tokens have made Robinhood one of the brightest examples of brand awareness in fintech and helped raise $2 billion in an IPO in July 2021.
Cleo

Cleo is a banking solution packaged in an actual fintech wrapper. Unconventional for finance, the Cleo brand will immediately be remembered by its users due to its bright product packaging, unusual design layout, active feedback from the audience, and the use of AI capabilities to support an adaptable chatbot and app, which was included in Best Money Management App of 2020 and Best Budgeting App of 2019 in the Google app store.