To attract funding and launch a crypto project, the team creates a proprietary token and conducts a token sale. One of the most popular ways to sell tokens has become Initial DEX Offering, as it allows you to easily list tokens on a decentralized exchange and immediately start trading after the token sale.
In this article, you will learn how to prepare for a token sale, what steps you need to take to launch and conduct it, and what listing options there are on DEXes.
What Is IDO?
IDO or Initial DEX Offering is a token sale format similar to Initial Exchange Offering (IEO), except that it takes place on decentralized exchanges (DEXes), as the name implies, and not on centralized (CEXes).
Thus, so-called "decentralized token sales" can be carried out without the participation of the exchange itself since any user can issue their token and sell it on a decentralized exchange without any restrictions.
IDO and IEO became the next stage in the evolution of Initial Coin Offering (ICO) — the first format of token sales, which appeared back in 2013. However, ICOs had a lot of problems related to fraud. The sale of tokens in no way obliged the founders of the projects to issue tokens and fulfil their obligations to investors who were not legally protected in any way.
As a result, after the token sale, many teams simply stopped working on the project, and investors were left with useless tokens in their hands, which they could not even sell. Besides loud promises, many ICO investors received nothing.
The advantage of Initial DEX Offerings over ICOs is that the token sale takes place immediately on a decentralized exchange, which is also known as the AMM protocol. During the token sale, a liquidity pool is created, and users can trade them immediately after the IDO.

How to Launch IDO and Sell Tokens?
Launching IDO and selling tokens is a process that takes place in several stages. You can't just take and sell your tokens to investors without preparation: most likely, you simply won't be able to sell them even at a very low price if nothing is known about the project. Therefore, before you sell tokens, you need to prepare the ground and tell investors in detail for what purposes you are conducting a token sale.
Step 1. Creating a Project
In order for tokens to have value, you need to convey to users what use your tokens will have. Answer the following questions:
Why will investors want to buy your tokens?
What is their value to the end user?
How can token holders use your project's cryptocurrency?
For example, Ethereum has its own blockchain network, so ETH coins are used to pay for gas – network fees. This generates a constant demand for tokens. In addition, an entire DeFi ecosystem has been built on the basis of Ethereum, which includes DEXes, lending protocols, NFT marketplaces and other decentralized applications (dApps).
Investors are not interested in the tokens themselves: it is important for them to understand why the tokens of your project can grow in price. In other words, investors are concerned about what benefits your tokens will bring them and whether they will receive revenue from them.
Determine what problem your project solves and what benefits it will bring to users and investors. Will your project have its own blockchain? For example, if you are launching a marketplace for the sale of digital collections, you do not need your own blockchain: you can use any of the existing ones, such as Ethereum, BNB Chain, Solana, Cardano, Polkadot and so on.
Blockchain is needed only if the project solves one of the main problems of existing decentralized networks: slow and expensive transactions, scalability or low bandwidth. Blockchains are needed to process cryptocurrency transactions and create applications on top of them with flexible and functional smart contracts that allow you to make transparent and secure transactions directly between users.
But if you still decide to create your own blockchain, you will need a strong development team that can make a secure blockchain and reliably test it to avoid critical errors after launch.
An important point is a purpose of creating a token and conducting an IDO. Tokensale is necessary in order to attract financing to the project. Therefore, it is important to provide investors with the necessary information about what you are collecting these funds for and how you will use them for the development of the project.
Step 2: Development Strategy
So, you have created the idea and concept of the project. Perhaps you already have a prototype or at least a website. What's next? The next step is to create a Whitepaper and a roadmap for the project.
Provide as much information about your project as possible — this will spur the interest of users and investors in it:
What does your project do, and how is it unique?
What makes it stand out from the competition, and what advantages does it have?
How and for what will tokens be used in the project?
How will the project develop, and what new features do you plan to add in the future?

At this stage, the point about the distribution of tokens will be no less important. As a rule, the maximum issue of tokens is determined in advance. Even before minting tokens, you need to determine how you will distribute tokens among the community and the team. Here is an example of token distribution:
15% — The team and advisors
10% — Marketing
5% — Airdrops
20% — Future events and strategic development/rewards for holders
15% — Private Sale
25% — Public Sale
We have only listed the main points that are often found in the Whitepapers of many projects, but the ratio of tokens may differ depending on the priorities of the team: some allocate more tokens for marketing and others for a token sale.
However, for a token sale, it is better not to allocate a large number of tokens at once and leave a part to reward project supporters in the future, for example, for staking or farming in DEXes and their liquidity pools. If you need help creating a Whitepaper, the Icoda team will help you.
Finally, work out the roadmap in detail: determine how your project will develop for the next 2-3 years. Highlight the main stages of development. For example, when the launch of the MVP or mobile application will take place when the token is listed on major exchanges and on which DeFi platforms it can be used.
Step 3. Token Creation
Blockchain technologies are good because any user can create their own token, even without a deep knowledge of programming languages: you can use the source code blanks and only adjust it to deploy a simple, smart contract and issue your tokens.
However, if you are creating a full-fledged product with advanced functionality, you will need to develop a complex smart contract, which cannot be done without experience and knowledge. If there are no professional, smart contract developers in your team, you can use the Icoda services.
The smart contract determines what operations users will be able to perform with your tokens. For example, this can be swapped on a decentralized exchange, blocking tokens for obtaining crypto loans or paying for digital goods and services. The more useful functions your token has, the more attractive it will be for users and, as a result, for investors.
We gave an example of creating our own token in the article "How Can You Create a BSC Token?".
Step 4. Pre-marketing
Even before the start of the token sale, it is important to warm up the interest of the audience so that as many users as possible want to purchase your token. The higher the interest of investors in buying a future token, the more chances there are to successfully complete the IDO and raise the necessary amount to finance the project.
Whitepaper, roadmap and the project website are also part of the marketing campaign. But promotion on social networks is no less important, as they reflect the activity of the audience and its interest in the project. It is social networks, first of all, that investors often pay attention to. You can also launch an ambassador program and attract advisors and influencers based on your budget allocated for the project. For example, connect bloggers from Instagram and YouTube to the advertising that is suitable for the subject of your project.
It is very important to start promotion long before the IDO, and not right before it starts, and even more so not after the launch. You need to make sure that by the start of sales, you have a lot of people who want to purchase a token. The greater the hype, the more successful the Initial DEX Offering will be, which, in turn, will attract even more attention to the project.
Step 5. Token Listing on DEX
After the creation of the project and the elaboration of the concept, the creation of the token and its promotion, the final step remains — the IDO. To do this, you need to list the token on a decentralized exchange. This can be done in two ways: to list the token yourself, bypassing the listing procedure, or to do it through the launcher in compliance with all the conditions of the platform.
Adding a Token on Your Own
Any user can do this, but in this case, the exchange will not promote your IDO, and instead of a proprietary page, there will be a warning that the token was added by the user, and the exchange does not guarantee that the token was not placed by scammers.
Decentralized exchanges provide detailed documentation on self-listing on DEX. Here is an smart contracts: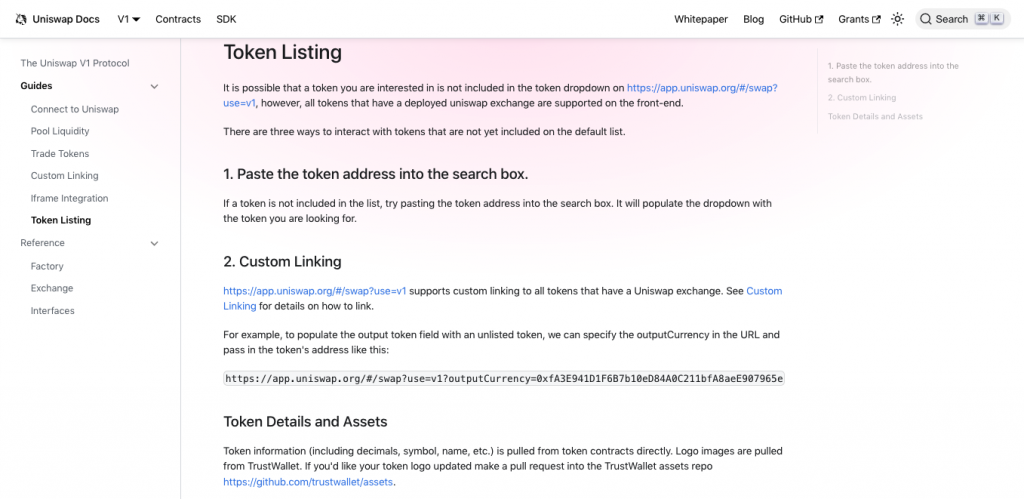 Adding a Token via the DEX Panel
Each decentralized exchange places a project token as well as helps with IDO and token sale promotion. However, this is a paid service, the cost of which depends on the specific exchange. In addition, to place a token through the DEX launcher, you need to fulfil the conditions of the platform. The larger and more famous the exchange, the more expensive the listing cost and the stricter the conditions.
However, listing on popular DEXes will be a plus for the reputation of your project, as it will show users the seriousness of your intentions. Listing on little-known exchanges will cost much cheaper, but from the point of view of promotion, it will be worse, especially if you are conducting a major marketing campaign and have already attracted celebrities to promote IDO.
For listing via the exchange panel, the founders of the projects need to fill out a special form to contact the representatives of the exchange and agree on the terms of cooperation. Here is an example of an application form for conducting Initial Farm Offers (IFOs) on the PancakeSwap decentralized exchange: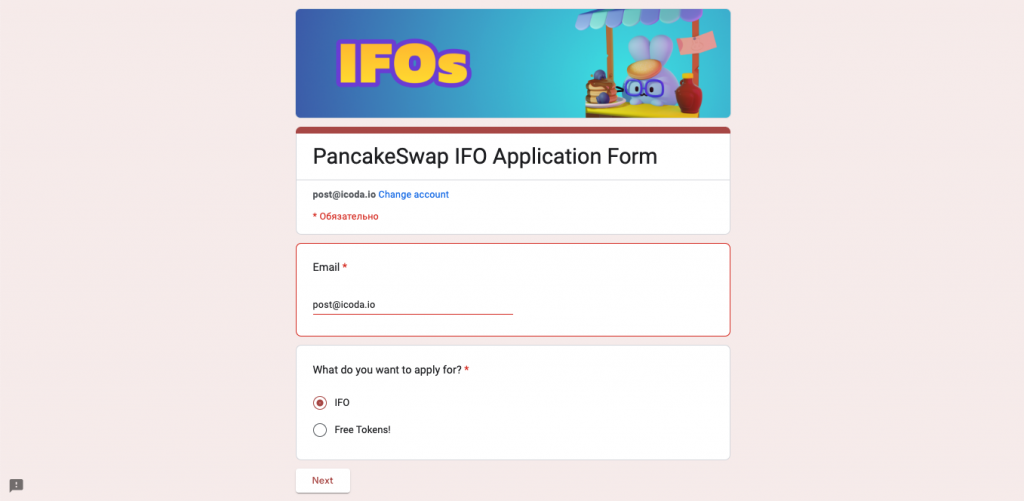 If you have agreed with the exchange on the date and conditions of the token sale, it remains to conduct a marketing campaign to create a stir for the future IDO. The campaign does not end with the token sale: after it, it is important to create and maintain a liquidity pool so that traders and investors actively add tokens to it and trade them on DEX.
You can conduct an IDO in one go or sequentially on several decentralized exchanges to attract more investors and increase the chances of meeting fundraising goals, but listing costs will increase accordingly.