The result of crypto trading often depends on the knowledge and skills of the cryptocurrency trader. Beginners have to learn the basics of trading from scratch, and it is a great practice to create communities where members support each other.
What Is Crypto Trading?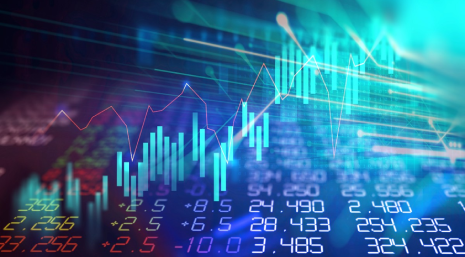 Crypto trading is the trading of cryptocurrencies on decentralized finance exchanges. For successful trading, you need to know the basics of classical trading, and understand such terms as indicators, stop loss, spread, and much more.
In addition, cryptocurrency and transactions with it have specific characteristics. The first one is volatility. Also, the lack of regulation and legal framework allows for insider trading. Anyone can take advantage of the information or create artificial hype by influencing the price of digital assets. What is considered illegal in traditional finance and is widely used in decentralized finance? An experienced cryptocurrency trader learns to "feel" the crypto market and its procedures.
Why Do Traders Need Trade Signals?
Trade signals represent information about the state of the currency in the financial market. Crypto signals are the same, but for cryptocurrency. Typically, a crypto signal includes the name of the currency, the exchange where it is traded, entry points (buy price), exit points (sell price), and stop-loss – the cost at which you need to close the deal as trading is getting out of control.
Crypto signals are of two types.
Free Trading Signals
Active traders, based on technical analysis or their observations, post free signals for everyone. Often such trade signals are used for Pump and Dump schemes. Sometimes free crypto signals are published for marketing purposes by experienced analysts. This is how they draw attention to their project.
Paid Trading Signals
Most often, experienced traders who own technical analysis tools and analytics charge for access to the crypto signal. Their trade signals are based on mathematics and statistics. They are more accurate, and you are more likely to make a profit by following the advice.
Using signals in trading can increase the chance of making a profit, especially if the trading signals come from an experienced trader. However, you should remember that cryptocurrency is still a new phenomenon, and its price is too easy to influence. It is extremely volatile; it even depends on crypto news. It is enough for the creator to get into the newsletter or make a careless statement as the price changes dramatically. Therefore, the technical analysis of cryptocurrencies is not yet as reliable as for fiat money.
Trading Rules Based on Crypto Signals
Сrypto signals generated by an experienced trader do not come as often as beginners expect – 5-7 signals per day is quite a normal indicator. This is due to the volatility of the cryptocurrency and the difficulty of predicting the crypto market.
Frequently appearing free crypto signals should cause alertness – far from all of them are thought out and will lead to success. An inexperienced trader who is still operating on adrenaline is like a casino gambler. The first win inspires and encourages rash actions. This leads to an instant drain of the deposit and disappointment.
To avoid this outcome, experts recommend following three simple rules:
If you are confident in the success of the transaction, do not send more than 10% of the deposit value to it;
The average check of the transaction should not exceed 5% of the deposit;
Spend no more than 1% on questionable positions.
The price of a cryptocurrency is more influenced by crypto news and hype than the cost of fiat currency in traditional finance. Therefore, the rigorous mathematical apparatus of technical analysis does not always help to make an accurate forecast. Any news on the network can change the course of trading. This happens in a fraction of a second. A serious cryptocurrency trader will never risk half of the deposit, even if the transaction looks reliable.
Discord Crypto Servers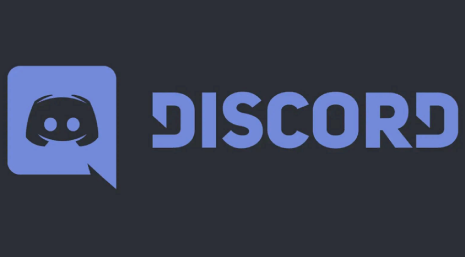 Discord is a messenger, a popular communication platform that allows you to share your screen, speak with your voice, or exchange messages. It was created for gamers to make game streams.
There is a huge number of Discord servers dedicated to cryptocurrency here. In the crypto space, thematic platforms of decentralized finance companies are created. For example, the Axie Infinity community is mostly present on Discord and Twitter. Moreover, the first one was chosen for communication, streaming, and training.
The convenient structure of the Discord server allows you to organize different branches for communication between members of the crypto trading community. To date, users can find the best crypto signals on Discord servers, as well as get a lot of tips and useful information. For example, Elite Crypto Signals, a Discord server that has existed since 2018, provides accurate trading signals, according to experts. And Cryptohub is a community for helping beginners in crypto trading.
How Crypto Discord Groups Work
Crypto space allows crypto enthusiasts the opportunity to unite on topics. Such communities are called discord servers. You can create multiple channels on each server. A discord channel has a name, and it is a separate thread for communication.
Due to this structure, discord servers allow members to communicate in different channels depending on their interests. Someone chooses training, and someone discusses signals. In some channels, experienced traders post signals and organize joint trades to influence the price of the cryptocurrency.
Discord channels can be voice and text channels. You can communicate with both text and voice at the same time. It is extremely convenient, and many users prefer this particular platform. It is easy to conduct training sessions, play and naturally exchange crypto world news in it.
How to Choose the Right Discord Server
Discord is crammed with servers that are very hard to navigate. When choosing, be sure to consider several factors.
Number of Members
If you need comprehensive support, then it is preferable to use a popular server. However, small discord crypto communities, especially newly created ones, can also be useful. Find out what idea the traders have united around and just try it.
Security Bots
Anyone can join crypto discord servers, but to avoid spam and scammers, as well as random people, organizers often connect bots that automatically verify identity. On some servers, you need to enter a captcha. Somewhere, it is required to confirm the phone number. This will ensure that the person enters the crypto trading community in a meaningful way.
Communication Activity
Analyze the frequency of messages between members. When it comes to trading cryptocurrencies, interaction and news sharing must happen all the time. In the "live" discord crypto group, someone is always in touch. For beginners, it is important to evaluate the speed of responses and the volume of tips in the corresponding channel. Much more useful experience you get when dealing with experienced traders.
Usefulness of Content
If you are specifically interested in crypto signals Discord, look for servers where they are present. Start with free crypto signals to understand the trading process and technology. Pay attention to the information not only about the signals but also about the results. Many users post their charts on discord channels.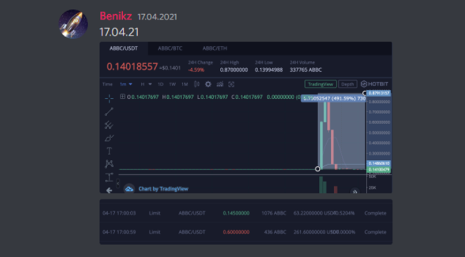 The presence of channels with educational material and support is also important. The more extensive and structured they are, the easier it will be to start trading.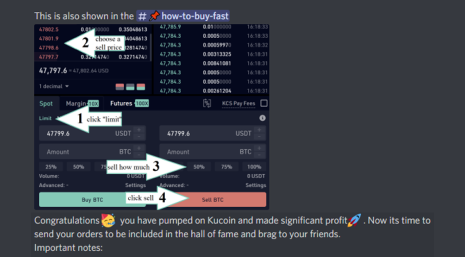 Trader Reviews
On the network, you can find reviews of the signals of specific traders. This information helps to determine the accuracy of the model and the experience of the analyst. But it is worth paying attention to the experience of the reviewer – he/she should have enough knowledge and skills to use the signal.
The Most Famous Crypto Discord Servers
We would like to highlight several servers with not only excellent crypto signals but also intensive communication.
Cryptohub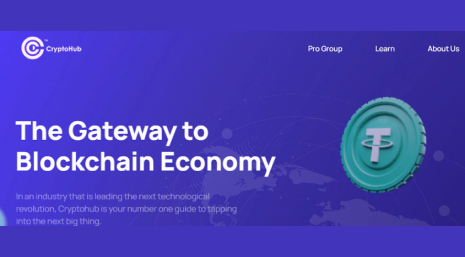 One of the best crypto discord groups for learning and soft immersion in blockchain technology. CryptoHub positions itself as a guide to the blockchain. On the official website, you can download reports, studies, and analytics about signals.
The community is represented on the Discord server of the same name. To join the group, you need to verify your phone number.
An application for quickly receiving crypto signals should be released soon. In the website's blog, you can learn about the trending cryptocurrencies of the last week, and the information is updated promptly and quickly.
To join, follow the link https://discord.com/invite/rZyc9fXqfF
Elite Crypto Signals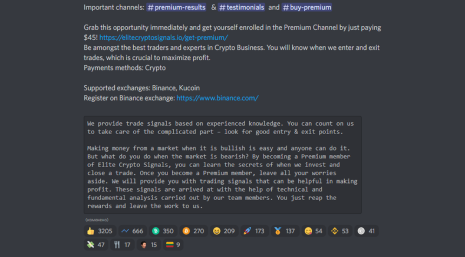 It stands out among crypto discord groups by age and reputation. It is a crypto community hub dedicated to trading in the crypto world. It contains more than 10 text and voice channels. You need to verify your phone number to join.
Elite Crypto Signals strictly regulates the rules of conduct, and it is forbidden to leak premium trade signals.
The rules for joining Elite Crypto Signals are listed on the official website – elitecryptosignals.io. A member must have an account on Binance and Discord, as well as a balance of bitcoins in his/her account for trading.
Elite Crypto Signals positions itself as the only crypto community of traders where exit points are indicated in the signal.
You can join the group at the invitation link https://discord.gg/2C2mcF2pFT
Cracking Crypto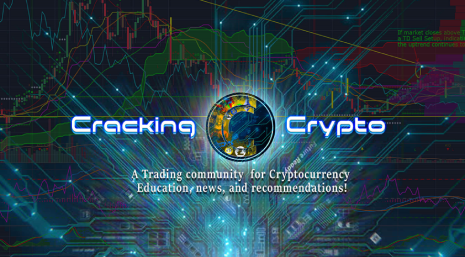 A group with six channels and a simple entry point. You need to be on the Discord channel for 10 minutes to be able to write messages. You can complete the verification process on the website using the link from the channel.
To join, you need to follow the link https://discord.com/invite/zJkxzrq
Cryptex Commonwealth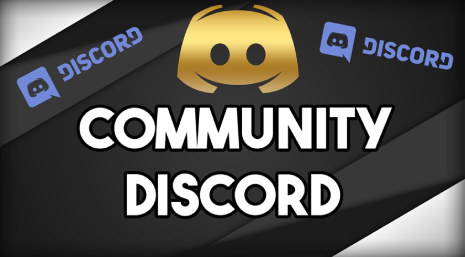 A group focused on long-term investments. Accordingly, almost all information and discussions are devoted to this topic. To become a member of the community, you need to follow the invitation link and wait a day, after which the administrator will allow your entry.
Invitation link https://discord.com/invite/qnZwJDS
r/CryptoCurrency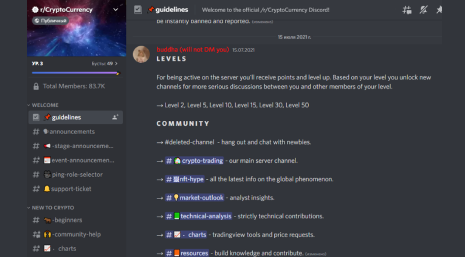 The topics of the channels are very different, and anyone can suggest an interesting topic. At the time of writing, there are channels dedicated to farming, NFT, gaming, mining, etc. Verification occurs by entering a captcha. To gain access to channels, you need to score points for an activity. In addition to crypto signals, participants post useful information, for example, about the airdrop.
Invitation link https://discord.com/invite/8T7aqnZ
Satoshi's Exchange
This community has replaced Satoshi's Data crypto server elder. There are more than 17 thousand members in the community, but the most valuable thing is the first crypto enthusiasts. The channels are dedicated to education and contain crypto signals, useful information about crypto trading, technical analysis, and crypto news.
The rules honestly say that the community was created not for professional financial advice but for the exchange of experience and opinions.
Invitation link https://discord.com/invite/hk5PP9y2Pm
The AXION Crypto-Community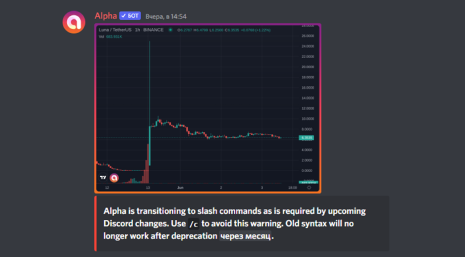 A trading signals channel aimed at turning the community into a family with warmth and a high level of trust. For verification, you need to accept the terms of the agreement and click on the message in the verification channel. The discord server has 9 sections, one of which is completely dedicated to chats: crit, newbies, diagrams, and even memes.
Everything is free, except for the VIP Chat, which can be accessed for $69.69 per month or $700 per year. Users share impressive success stories.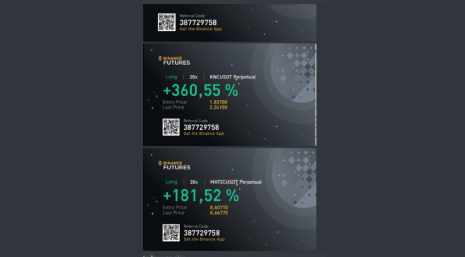 Invitation link https://discord.com/invite/money
Crypto Discord Groups for Pump&Dump Trading
The Pump&Dump technology is high-risk and not entirely fair, but with a good combination of circumstances, it allows you to quickly get a high income. The administrator artificially raises the price of the cryptocurrency, and while users are actively buying it at an inflated price, he/she sells/her stocks. In this case, only he/she and the participants close to him/her turn out to be profitable.
You should keep in mind that free pump trading signals are usually sent to users after being published in paid channels, that is, with a delay. This means that the cryptocurrency trader may be in the second wave, due to which the first one makes a profit. A sign of Pump & Dump is the heating of interest in trading. For example, an exchange is reported, but the name of the coin remains secret until the last moment. After the announcement, the cost of tokens instantly increases, and after a while, it also falls rapidly.
The "pumps" are joined by those who perceive trading as a game of chance and are looking for thrills.
r/Wallstreetbets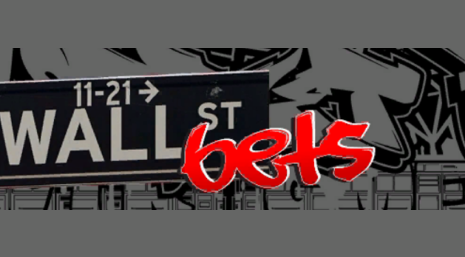 The most scandalous group among all discord servers. It is characterized by aggressive trading. Some believe that the community is not engaged in fundamental trading but gambling. It attracts those who are interested in trades with high risks. In January 2021, the discord server was closed for hate speech and discrimination. However, it was soon reopened.
The invitation can be found on Reddit, where this group started. After joining, you need to wait 10 minutes, after which voice channels and messages will become active.
Invitation link: https://discord.com/invite/wallstreetbets
Mega Signals Group
Formerly called MEGA Pump. On the server channels, you can read crypto news, see the results of members' trading, and much more. The group offers an affiliate program. For 20 referred members, the rank increases, and the user receives early signals 5 seconds before they are published.
To join, you need to follow the invitation link, and in 10 minutes, you will get all the rights. Link: https://discord.com/invite/MZ56B8Pwsn
Superpump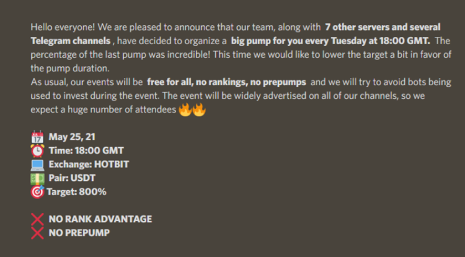 This group, to make a profit, has simplified verification, and the only rule is no ads or spam. All trading signals are free. The trading is done on Hotbit, Binance, and Kukoin. The channels provide detailed guides, so you can see the results of trading.
The invitation is available at https://discord.com/invite/CAwuHyymxy
Conclusion
Cryptocurrency trading is an exciting activity that can bring good profits. However, for this, you need to make an effort, first of all, to learn. Crypto signals will help you keep your finger on the pulse and buy or sell cryptocurrency promptly.
The best place for every cryptocurrency trader to find information, tutorials, and support for the discord crypto community is the themed crypto discord servers. A convenient channel structure allows you to share information and voice channels with the ability to stream "live" to see the trading process. Discord is suitable for all traders, regardless of their experience.