PancakeSwap is a platform that allows companies to borrow a necessary amount of money in crypto and investors to earn passive income, for example, by using yield farming.
More About PancakeSwap Yield Farming
PancakeSwap is a decentralized exchange that acts as an automated intermediary between users. When a transaction is made, an open smart contract is created for LP tokens and stored on an available blockchain. This approach allows to recreate a full copy of a service in case of any failure and not to lose any information about client balances.
Pancake runs on Binance, using an ETH-compatible blockchain known as SmartChain (BSC), and the BEP-20 token is linked to ERC-20, an Ethereum token. Moreover, the BEP-20 protocol allows users to convert LP tokens of the Tron network and, therefore, to trade wrapped Bitcoin.
The exchange provides liquidity by using an automated market maker (AMM) model. Users lock tokens in pools and receive rewards. Farm on PancakeSwap offers low fees and high-interest rates up to 400% a year.
All actions are available both on the platform's app and the official website.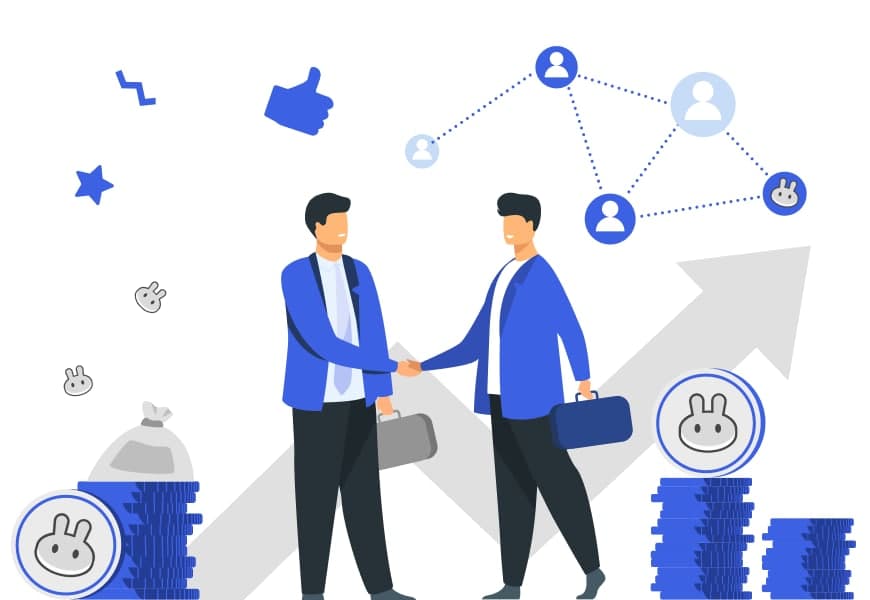 There is also a detailed guide for new users in 28 languages and a Help section.
How to Get Started?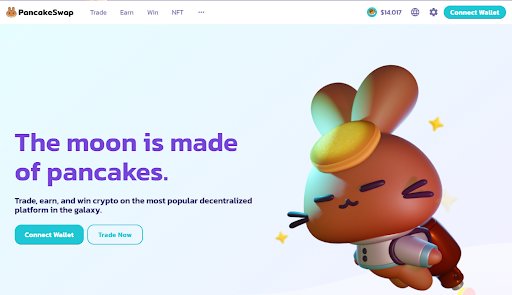 Earning money on this exchange is extremely easy. Before you make your first investment, you need to go through three simple steps.
Create a wallet on your computer or smartphone. The platform recommends using either Trust Wallet or Binance Wallet, but you can also use MetaMask (though some additional settings will need to be adjusted). WalletConnect, MathWallet, TokenPocket, SafePal, and Coin98 are also available.
You will need LP tokens of the exchange. Purchase BEP-20 tokens which are necessary to pay for transaction fees and to convert other tokens into the ones compatible with the platform. The easiest way to do this is to use the Binance exchange if you are already a client and have some cryptocurrency deposited in your account. You can also use SafePal to swap directly from your wallet. As an alternative, you can use the Binance Bridge service.
Connect your wallet to Pancake. In Trust Wallet, the list of available blockchains is displayed in the dApps menu of the Exchanges section. In MetaMask, you will need to go to settings and enter additional information in the Networks section.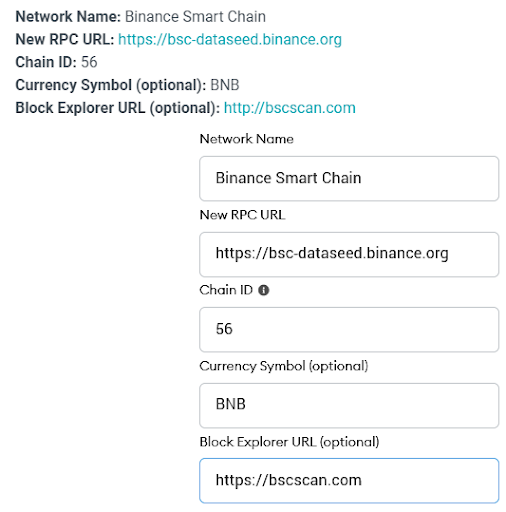 After you connect to the BSC Mainnet network, your wallet will detect the Binance SmartChain.
The platform offers various services, including the following:
Prediction allows users to predict the price of LP tokens of Binance BNB relative to the US dollar. The bank is distributed among the winners.
Collectibles (NFT) is a new function that offers users to buy NFTs and use them as avatars. The most active users receive rewards.
Team Battle is another source of passive income, where members of a winning team receive extra financial rewards or NFTs.
Syrup Pools are considered to be the easiest way to earn interest. It requires simply setting up Cake LP tokens with high yield rewards. Users can choose between an automatic and a manual mode.
Farm on PancakeSwap offers higher profitability compared to Syrup Pools. However, it is also associated with higher risks due to impermanent loss. Still, strategic stake LPs (for example, pair Cake BNB) can help clients multiply their assets.
You can swap tokens without a centralized intermediary directly in your wallet.
What Is a Yield Farm?
Farm on PancakeSwap is based on a popular passive income method known as «yield farm». It allows users to earn money by providing liquidity to DeFi services. The dividends are made up of two main components:
Trading fees for the liquidity pool.
Rewards for adding liquidity.
The exchange provides LP tokens (in the case of Pancake — Cake tokens) for each liquidity pool. By exchanging their own tokens for LP tokens, a user is rewarded with a share in a pool. The higher the Total Value Locked, the lower the returns. When many users add liquidity to one pool, the interest rate of each participant decreases.
Yield Farming on Pancake
To get income, you need to make a stake LP in the liquidity pool for two different tokens in a 50/50 ratio. You will be rewarded with Cake tokens which can be staked in Syrup Pools or withdrawn by converting into fiat money.
You can analyze active liquidity pools and their interest rate (APR) directly on the website. Cake BNB offers the highest liquidity, but the returns are not that high.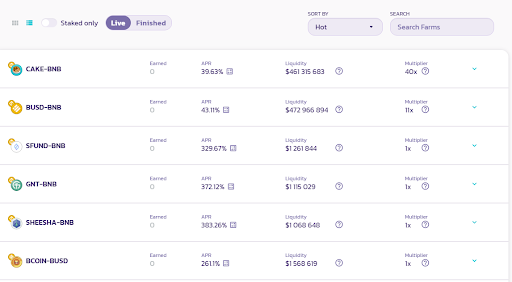 You should pay attention not only to the interest rate but also to the liquidity, which indicates the demand for the tokens you have chosen.
In order to stake LP tokens, choose a pair of tokens (for example, Cake BNB) and click on the Get link.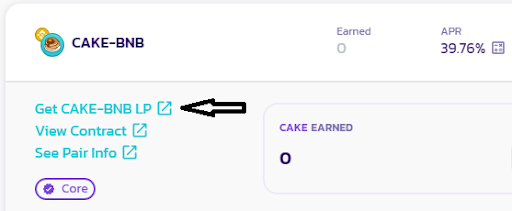 After that, buy the LP tokens of the chosen pair. The system will suggest the number of each type of token necessary to obtain a balanced ratio.
In the Liquidity tab, you can add liquidity in order to obtain Cake tokens that represent your share in the pool. In the Farms tab, click "Stake LP" in order to confirm a stake and add it to a smart contract. Rewards are accrued every 3 seconds. Another advantage is that you can withdraw your assets any time, but you will have to pay a fee.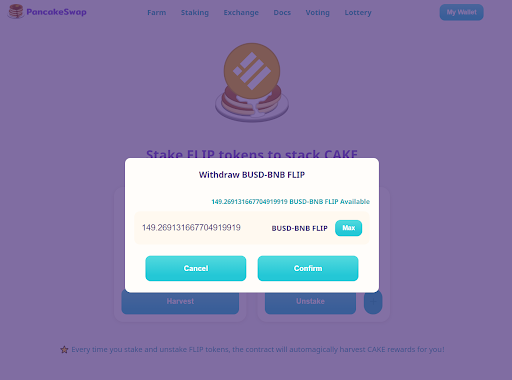 Benefits of Pancake
As any other DEX, PancakeSwap has the following benefits:
There is no point in hacking the system since there is no single entry point with asset and finance data.
The system ensures the complete anonymity of its users without the need to enter personal data for registration.
There are no managers and intermediaries who could have some financial interest in manipulating the prices.
The distributed architecture protects users from authorities that can neither block the system nor freeze accounts.
The higher popularity of the platform compared to other systems is due to the low transaction fees and the option of trading directly from the wallet.
The official website offers several security audit options, including Certik, Slowmist, and PeckShield Prediction V2.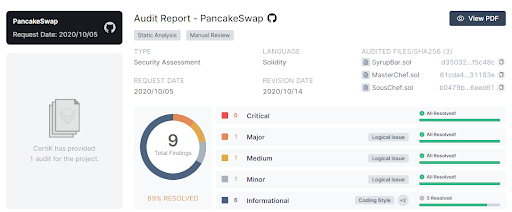 According to user reviews, there is no risk that such a popular exchange officially linked to Binance could be a scam.
The Risks of Yield Farm
The main risk of «yield farm» on Pancake and of the DeFi sphere, in general, is the impermanent loss. Cryptocurrencies are highly volatile, and the price of LP tokens can change even after they are added to a liquidity pool. Higher fluctuations mean higher losses.
The liquidity in a pool is constant, with only the ratio of assets changing. The number of cheaper tokens increases, the number of the more expensive tokens decreases. A user providing liquidity has a share in the pool and withdraws the assets in proportion to this share. Therefore, the user will receive fewer of the more expensive tokens and more of the cheaper tokens. If the price difference is too great, the losses may not be covered by the dividends.
However, most often, the fees compensate for the losses and cover the impermanent loss. This is why it is important to choose pairs that are unlikely to leave the market since you are bound to lose money in this situation. The most popular option for the farm on PancakeSwap is LP tokens Cake BNB.
Binance offers the following calculations.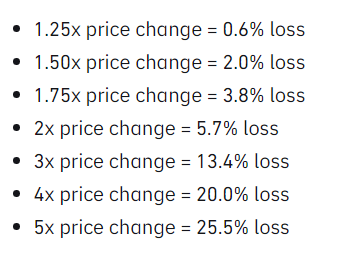 Users should take into account that the impermanent loss does not depend on whether the price increases or decreases. Any change over time leads to losses.
Another risk is related to the decrease in the price of LP tokens. The price chart of Cake tokens with CoinMarketCap shows that Cake is volatile, but the variations of its price do not exceed 10$.

Conclusions
Yield farming gets mixed reviews from financial experts. Many critics qualify it as usury, claiming that users simply provide loans with high-interest rates. However, as shown by the statistics, users are willing to take on certain risks in order to achieve high profitability. DeBank ranking platform estimates the growth of the total value locked at $72 billion in the last year, from $2 billion in 2020 to $72 billion in 2021.
There are no alternatives to «yield farm» in the traditional financial system, as it offers users to add liquidity in order to support the underlying blockchain of their cryptocurrency. It means that the ecosystem is based entirely on clients rather than government solutions. Such voluntary participation is rewarded generously. The fact that Cake BNB is the most popular pair proves that users are willing to support DEX Pancake. The demand for cryptocurrencies is generated by companies that implement complex trading strategies. They use yield farming to obtain common equity.
«Yield farm» is a prominent solution to earn passive income even for those who are not experts in digital assets.