NFTs (non-fungible tokens) are probably the hype trend in the digital world at the moment. NFT sales of artwork, music, video clips, and many more have been observed during the last few years. As a result, they have caused plenty of reactions and emotions in the internet world. Hence, NFT memes have become a part of popular culture.
What Does NFT Mean in Memes?
Memes are humorous pieces of an image, a video, text, and clips that are often copied and spread rapidly by netizens. Memes are made to laugh a little, but NFT space takes it to the next level. Memes that have always been an internet trend are now valuable digital assets to own for investors and collectors. As the NFT industry continues to grow, people are finding new ways to make money and give value to digital content; memes are one of them.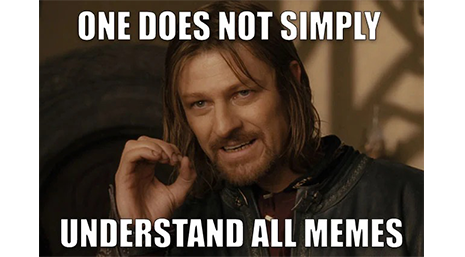 Memes in the crypto community have become more than just digital content to share jokes. They are now turning every legendary meme into an NFT that anyone in the world can own.
NFT memes are the digital representation of a meme on the blockchain. Similar to other types of NFTs, these memes are intangible fungible tokens. The buyer who purchases them gets the unique representation of a specific meme and its digital ownership. One must note that the owner of meme NFT can fractionalize or split a meme and resell it.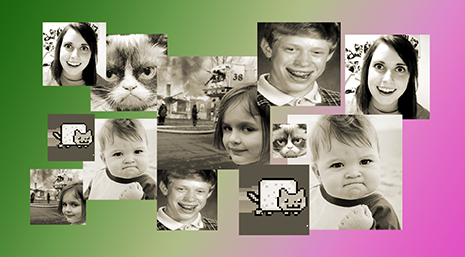 Why Are NFT Memes So Popular?
The entire crypto community is crazy about NFTs and NFT memes because they are believed to provide people with the ability to create genuine digital assets that represent ownership of the world's digital and tangible assets.
What does it mean? In short, you can create an NFT, which is ownership of land, a house, or even a pair of shoes, and then store the tokens on a blockchain like Cardano or Ethereum.
These unique tokens have become the center of attention in the cryptocurrency universe as they can be worth millions of dollars. Perhaps the most popular form of NFT is digital artwork, ranging from videos, photos, audio files, and game assets to digital drawings and GIFs.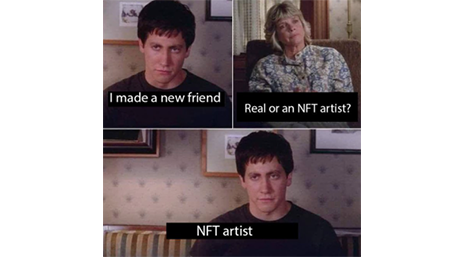 What Makes NFT Memes Great?
Listed here are a few reasons that make NFT memes better than digital ones.
NFT memes are unique! Most of the NFT meme characters are unique and only exist in one form, so they have no copies or duplicates (unlike digital files). This makes it impossible to create any counterfeit content.
NFT memes are limited! Each NFT meme character has a limited quantity that can be issued. So, its value increases because the demand goes up.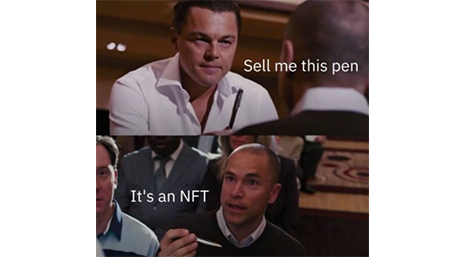 NFT memes are easy to share! Since they exist in blockchain, they cannot be pirated or duplicated, unlike other digital content, which can be copied all over the place by anyone who wants to steal your work or make money off it without your permission.
NFT memes are fun! They are used to convey a feeling or emotion that the creator wants to express to the audience. It can be used for entertainment purposes as well as for educational or motivational purposes.
NFT memes are easy to memorize! As a meme is a newly created character, it's easier for the audience to remember. This makes it possible for them to spread more easily on social media platforms like Reddit, Instagram and Twitter.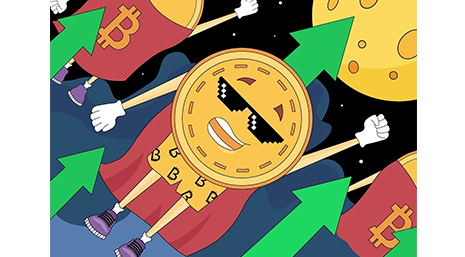 Can Memes Be Sold as NFT?
Yes, of course! Since NFTs can take the form of virtually anything, including works of digital art, songs, poems, baseball cards, and even digital deeds to houses, it should come as no surprise that memes have also found their way into the blockchain.
Here are a few TOP 5 stunning memes you may recognize that have been converted and sold as NFTs.
Top 5 Funny NFT Memes
Disaster Girl NFT Meme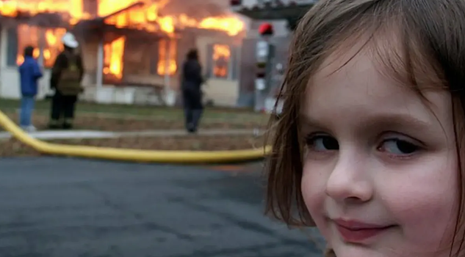 Who doesn't remember a small girl smiling in front of a burning building? This meme first got alive in 2005, when 4-year-old Zoë Roth was posing for a picture in front of a burning home while her face was covered with a devilish smile on her face. This image became viral and was turned into a meme as soon as her father posted it on the internet. Many still use the Disaster Girl in various meme depictions today.
Well, Zoë is 21 years old now. In April 2021, her classic NFT meme sold for 180 ETH, or $557,629.20. Zoë said the proceeds from the sale went towards clearing her college loans. The Roth family retains the image's copyright and will receive 10% of all future sales.
Success Kid NFT Meme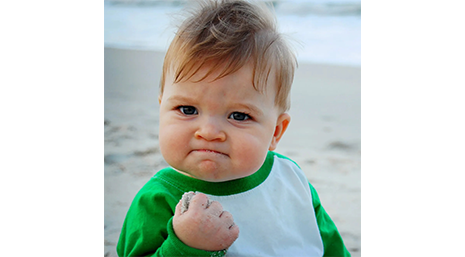 Everyone has seen a kid who punches his fist toward himself. This meme consists of a toddler grasping a handful of sand to serve as an "inspirational" photo, often accompanied by a motivational quote. Success Kid sold for $32,355.75, a good start to a college fund.
The success kid meme is one of the most popular NFT memes on the internet, and for a good reason. The success kid meme consists of a young boy holding up a handful of sand with one hand and a determined facial expression.
The famous meme originated when his mom Laney Griner attempted to take a photo of her 11-month-old son named Sam. Later, it was circulated on the web, accompanied mainly by inspirational quotes or captions related to success.
Bad Luck Brian NFT Meme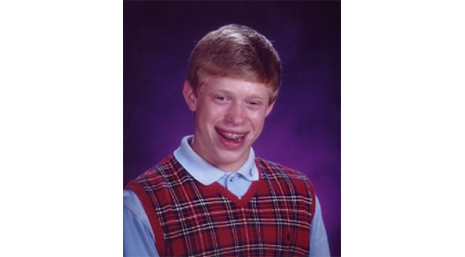 This classic meme shows an event where someone is unlucky in certain situations.
Thanks to the advent of NFTs, his luck doesn't seem so bad after all. Bad Luck Brian, whose real name is Kyle Craven, became the face of misfortune back in 2012 when his long-time friend Ian Davies uploaded his yearbook photo onto Reddit with the caption "Takes driving test… gets first DUI." By August of that year, there were more than 100,000 variations of the meme. While it didn't make as much as the other memes above, his yearbook photo still brought in 54,000 USD during its NFT auction back in March.
Nyan Cat NFT Meme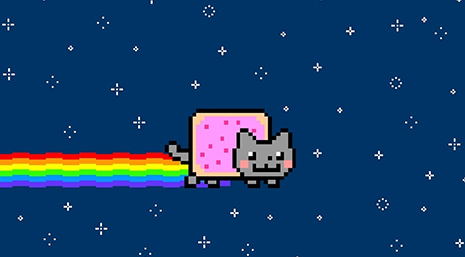 A pop cat farting a rainbow was created by Chris Torres in 2011. The meme NFT earned 590,000 USD. In February 2021, Torres told Coindesk, "I'm very surprised with success, but I think I'm most glad knowing that I've basically opened the door to a whole new meme economy in the crypto world."
Grumpy Cat NFT Meme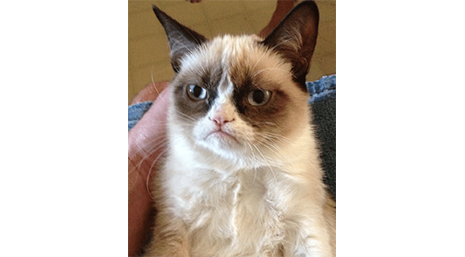 Grumpy Cat, one of the world's most famous cats ever, gained immense popularity after an image of her dismayed look was uploaded to Reddit back in 2012. Over the years, she'd go on to become a New York Times best-selling author, star in her own Lifetime Christmas movie, and even become the first cat in history to receive a wax figure of herself at Madame Tussaud's. Even the most grumpy cat in the world found love and recognition in the form of NFT. It was sold on the Foundation marketplace for 44.2 ETH and is estimated to be worth almost 105,000 USD at the time of writing this article.
Final Words
The future of meme-based NFTs will depend on the extent of volatility in the cryptocurrency market, increased smartphone usage, the level of creativity that comes from the minds of meme creators, privacy and security issues, and the trends in the social media world.
Memes have a great selling value when converted into treasured NFTs. More brands are using memes to showcase the advantages of their products and boost their overall image. Meme makers can attract a vast global audience easily by selling off their unique creations on different NFT marketplaces at competitive prices.