The crypto industry is huge and getting bigger every day. Over the past two years, it has grown from 2000 to 7600 cryptocurrencies and continues to grow. Many of these cryptocurrencies are weak projects, scams, dead projects, and more.

The cryptocurrency industry is constantly changing and evolving. Many projects that started with a single idea ended up branching out, and the things they were trying to test became their new main focus simply because the bitcoin community liked it and saw more potential in it.
Other projects that initially held promise – be it a good idea or some other reason – ended up "losing their way." The reason can be anything – bad leadership, bad decisions, bad reputation, the nature of the project, competition, and more.
In the end, what we are trying to say is that there are many gems in the huge crypto market, but they are extremely difficult to find, especially for new traders and investors.
When you manage to find them, you need to keep a close eye on them, as they can get even bigger or fail completely, almost in the blink of an eye. If you have enough knowledge, experience, and dedication to keep abreast of new trends and make accurate estimates of what will be the next big hit, this is a very useful skill.
However, if you can do this, then you should know that you are one of the few who has such a deep understanding of cryptocurrency.
If you are not in this group, don't worry. You can still succeed in the crypto world, but you will need some help, and this is where influencers in the crypto world come to the rescue.
Who Are Influencers (Crypto Influencers)?
As the name suggests, Cryptocurrency influencers are individuals and entities that have a deep understanding of the cryptocurrency industry, how it works and breathes, how it changes, and what comes next.
Crypto influencers devote a huge amount of time and energy to keeping track of the crypto industry, staying on top of new and old projects. They know exactly which cryptocurrencies are popular and which will soon become popular.
Many of them, for various reasons, tend to share their views on the blockchain industry. Some want to help others make money and enjoy the world of decentralized finance. Others find it difficult to track cryptocurrencies and want to prove themselves by accurately predicting which direction the cryptocurrency will rise.

Some of them are celebrities who got into cryptocurrencies or successful businessmen who became celebrities thanks to cryptocurrencies. But there are those who are not considered celebrities. Many of them do not manage large corporations, and tracking cryptocurrency sharing their knowledge and forecasts is not their job.
These crypto enthusiasts just love new technologies and share their knowledge with others to help people earn money and help with blockchain technology.
Find Crypto Influencers
You can find crypto influencers to promote your projects on channels like Twitter, YouTube, and Instagram.
More importantly, it is necessary for crypto brands to partner with both micro and nano-influencers whose profile suits their projects.
A macro-influencer is a very well-known crypto influencer who has hundreds of thousands to over a million followers.

Micro-influencers have anywhere between 1 000 to one million followers. These are not celebrities known but experts in their respective niches. This usually includes crypto enthusiasts, crypto news websites, and traders.
A nano-influencer is defined as an influencer with between 1 000 and 10 000 followers. These audiences are niche and highly engaged. They take any recommendations seriously.
While macro-influencers are the best for attracting the top investors, it is micro and nano-influencers who have impacts on actual investing decisions.
Who Are People Listening To?
According to one 2018 study by Grin, about 30% of cryptocurrency users base their crypto trading and investment choices on the recommendations of these influencers, and only 3% follow the advice of "celebrities".
This is not surprising because people understand non-celebrities better. These are just people, the same as everyone else, but they understand something better than all of us. They speak the same language as us, live the same life as we do, and simply put, they are one of us. Naturally, we would trust them more. Meanwhile, their advice is often as good as what celebrities offer, if not better.
These influencers we are interested in discussing today, and we would like to list some of the influencers we know. Without further ado, let's see who they are and where to find them.
The Importance of Choosing the Right Crypto Influencers

Back in 2016, it was found that almost 40% of Twitter users made purchases based on tweets from influencers. Now, the global influencer market value is steadily inching toward the $15 billion mark. This clearly indicates that most, if not all, industries rely on influencer marketing. However, finding, connecting, and working with influencers is no small task.
It requires a lot of market research and for good measure. This is because you would not want to pick someone to promote your cryptocurrency project that has fake followers or someone who deals in a different sub-domain in the crypto industry. Making such choices will lead to spoiling your brand's image, let alone promoting it.

This is why it is essential to work with top influencers who can contribute towards the growth of your crypto project. The idea here is to attract and hold your target audience as well as newcomers, spread awareness about your cryptocurrency project, and make substantial ROI. Overall, since you'll be spending a good amount of time and money on crypto influencer marketing, it should yield meaningful results for your crypto brand.
Top Crypto Influencers
Especially for those who have only recently learned how Bitcoin differs from Ethereum, we have prepared a small rating of the most reputable influencers in the cryptocurrency industry. Yes, their statements and comments are not the ultimate truth. But the opinion of these people, at least, is worth listening to.

Our heroes are the most famous personalities in the crypto community, and thousands of subscribers serve as confirmation of this fact. If you haven't followed their social media yet, then it's time to do so – especially for those who plan to get involved in the cryptocurrency industry in the future. Check out our crypto influencer list to use it to understand the crypto space.
Why Are Crypto Influencers Critical in the Blockchain Industry?

In the cryptocurrency industry, crypto influencers are individuals whose opinions impact the value of virtue currencies. Top crypto influencers use multiple social media sites, such as Twitter, Facebook, and YouTube, to share content focused on digital money. Here are some reasons why cryptocurrency influencers are critical.
They Have a Compelling Personality
The biggest crypto influencers have followers who hold them in high regard. They have a substantial impact on your brand once they are involved.
Their Impactful Word of Mouth Delivers Positive Outcomes
Top crypto influencers ignite conversations within their communities about your cryptocurrency project. These talks can give your projects the PR and promotions it deserves.
Explain the Advantages of Your Product
The best crypto influencers explain to their audiences the advantages of your products and why the audience should choose them.
Explain Complex Concepts in a Simple Language
Blockchain technology has complex concepts that crypto project owners may lack time to explain in simple terms. Thus, cryptocurrency influencers may help you gain a deeper understanding of a complex and constantly evolving financial topic. This allows the audience to understand what your products and solutions are all about.
Draw the Audience to Your Products
Top crypto influencers explain to their audiences the benefits of your products and why the crowd should choose them. They promote conversations about your project inside their respective networks. These discussions might get publicity and marketing for your projects.
The most prominent Cryptocurrency Influencers on YouTube
Amir Rozic
Amir Rozic has the ability to explain very technological things in ways that the masses can understand. Amir Rozic is a cryptocurrency influencer, serial entrepreneur, Blockchain evangelist, and founder of BlockGeeks, an online education platform. He is also a YouTube personality, crypto expert, and enthusiast. Amir is also the founder of Rosic Media, a niche digital marketing company that has helped many companies use the latest and greatest marketing strategy to support their business. This youtube channel will be helpful.
Ivan On tech
Ivan is an international speaker, cryptocurrency influencer, blockchain educator, software developer, and data scientist. Ivan's Youtube channel Ivan on Tech is a truly global phenomenon that spreads knowledge about bitcoin and blockchain technology to hundreds of thousands of viewers around the world. Ivan simplifies the complex, offering entertaining and engaging conversations. Visit one of Ivan's performances, and you will have a blast.
Profile on Twitter – @IvanOnTech
DataDash
Probably one of the fastest-growing channels on YouTube. DataDash is a one-stop-shop for everything related to cryptocurrencies, data analytics, and science, as well as spotting global trends with cutting-edge analysis. The channel is managed by Nicholas Merten, a crypto analyst. He has been involved in cryptocurrencies for a long time and provides insightful videos of his favorite picks, as well as continuing to come to the live session to calm the situation when most people are panicking due to a sudden correction or FUD.
@DataDash – on YouTube.
Boxmining
Bitcoin is a global phenomenon, and interest in cryptocurrencies is growing all over the world. Boxmining is the only YouTube channel with a truly global reach. The person behind the channel breaks down the most important topics into easy-to-understand videos and talks about how it is perceived both in the East and the West. Whether it's Bitcoin, DASH, Ethereum, or Decred, he hasn't left any technology unnoticed. Best of all, everything is presented in a short, easy-to-understand video.
Top 5 Twitter Influencers
Andreas M. Antonopoulos
Andreas M. Antonopoulos has been involved in cryptocurrencies for a long time. CoinDesk has named him "Bitcoin's top thought leader and ambassador," who has made the list of influencers several times, including being ranked #1 in 2014. He even wrote a book about it (or one of the – "Mastering Bitcoin"), and he is a frequent headliner of crypto conferences. He has written books such as Unlocking Digital Currencies and Mastering Ethereum.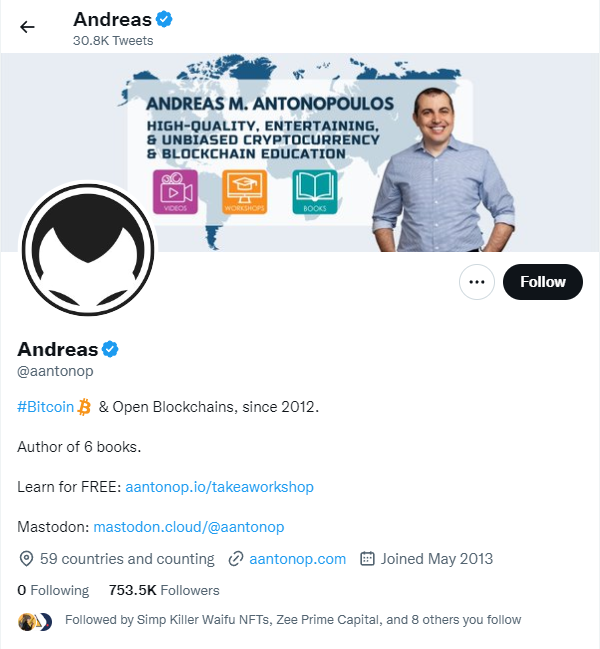 Profile – @aantonop
Followers on Twitter: 365k+
Roger Ver "Bitcoin Jesus"
The man behind Bitcoin Cash. He claims to be the world's first crypto investor in crypto-related startups. Previously, he was clearly interested in Bitcoin, and now it is Bitcoin Cash. He is bullish on this token, and his tweets are often powerful enough to manipulate the entire market. He is a very controversial figure and has a controversial reputation throughout the industry.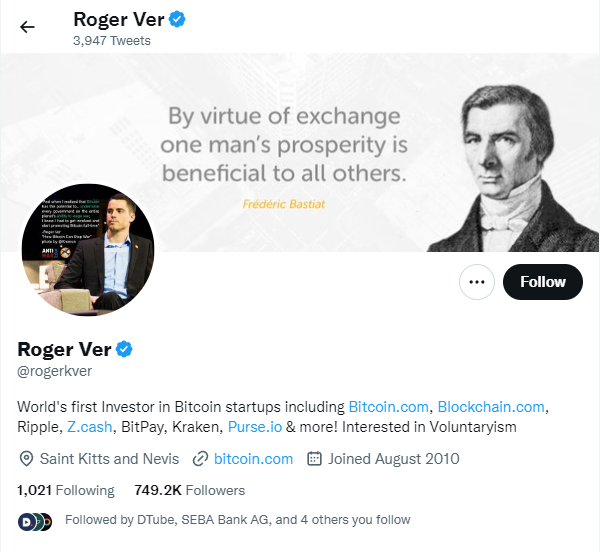 Profile – @rogerkver
Followers on Twitter: 451k+
Vitalik Buterin
Vitalik Buterin is a Russian Canadian programmer co-founder of Ethereum. He regularly gives his opinion on how Ethereum will help reduce the transition rate. He also talks about how more and more applications should be built on the Ethereum blockchain. Most recently, he tweeted that he might quit if people keep talking about Lambos and the moon.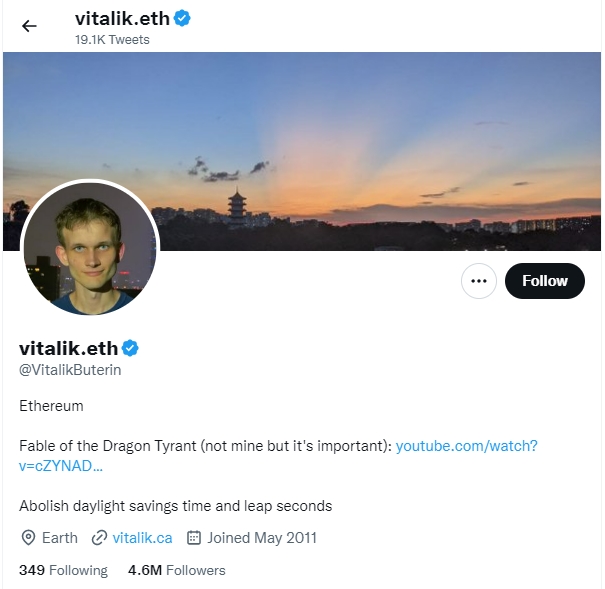 Profile – @VitalikButerin
Twitter Followers: 618K+
Charlie Lee
He is the creator of Litecoin and former director of development at Coinbase. He is active on Twitter, keeping up with every turn and hard fork on the road. In 2017, he also saw a significant increase in subscribers, from less than 30K at the beginning of this year to about 558K at the latest check. Back in December, he made headlines for announcing that he had sold and donated his stake in Litecoin to avoid conflict.
Profile – @SatoshiLite
Twitter Followers: 665k+
Ian Balina
Ian Balina is an influential investor, advisor, and evangelist in the field of blockchain and cryptocurrencies. He has appeared in The Wall Street Journal, Forbes, CNBC, Huffington Post, The Street, INC, and Entrepreneur Magazine for his work in analytics, cryptocurrencies, and entrepreneurship. He became famous for his ICO list, which he shares in his videos.
Twitter followers: over 119k
Joshua Sigala
Joshua Sigala, CEO of Vaultoro, the only Bitcoin and physical gold exchange. He has been in the bitcoin/blockchain space since 2010 and helped pioneer the sharing economy by launching the first exchange site in the late 90s. He co-hosts the crypto podcast Tatiana's Show and tweets interesting crypto information and opinions on a daily basis. You can follow him to keep up to date with everything that happens in the crypto space.
Twitter Followers: 6.5k+
It is worth noting that the list of influencers is not limited to these people. There are many gurus and industry experts whose opinions are listened to by hundreds of thousands of crypto enthusiasts.
But for those who take their first steps in the vast world of cryptocurrencies and blockchain technologies, it is important not so much the quantity as the quality of the information received. The experts included in our rating are able to explain in a simple and accessible language not only the fundamental principles of the industry but also help to understand its latest innovations.
Over time, everyone will be able to choose those opinion leaders who best meet all his criteria. In the selection process, it must be remembered that the abundance of information always affects both its quality and the speed of assimilation. It is necessary to learn not only to listen to what others say but also to analyze information, filtering out the unnecessary and leaving only the key points.
Conclusion
Some of the biggest and best crypto influencers can be found and followed on social media for free. These are experts who have been working in the cryptocurrency world for many years.
They have seen both the good and the bad sides of cryptocurrencies and have managed to get through both sides and gain a lot of experience along the way. They have become experts, and we think their opinions definitely deserve to be heard, so check what they have to say, but be aware that they are not all-knowing!
They can make mistakes, like all of us, so you should collect their information, but make the final decisions on your own, and not blindly follow even their advice.