The NFT community has grown exponentially in recent years, and it's not slowing down anytime soon. With new NFT projects being announced every day, the NFT space is only going to continue expanding and evolving as time goes on. One of the best ways to stay up-to-date with this rapidly changing world is by following the biggest NFT influencers on social media.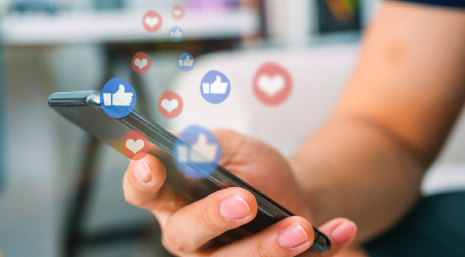 Companies know that NFT packs a powerful punch and can change the game for a wide range of segments in the crypto market. They recognize that influencer marketing is one of the most effective ways to reach new customers. This list will discuss some of the top NFT influencers you should be following if you want to stay abreast of all things NFT!

The List Of Influencers
Entrepreneur, media mogul, and NFT investor Mark Cuban has been one of the most significant individuals in crypto over recent years. He's one of the most successful NFT influencers on Twitter, having 8.5 million Twitter people who follow him to learn about his opinions on crypto, and lately, the NFT space.
Gary Vaynerchuk is one of the top opinion leaders for many reasons. He was one of the first to recognize the potential of NFTs and has been an advocate for their use ever since. He is also very active on social media, where he shares his insights and advice with his followers. Gary's VeeFriends NFT project is a huge source of support and information. He is always happy to help out others in the crypto community. If you're looking for someone who understands NFTs and can provide valuable insight, this NFT influencer is your guy.

Alex Becker has a YouTube channel that covers crypto projects, and now he's switching over to mostly NFTs. In partnership with Ellio Trades, Alex launched an NFT project called "Neo Tokyo Identities." 
With a target audience of crypto enthusiasts, Tony JRNY posts daily updates on cryptocurrencies and NFTs. He provides news coverage alongside informational videos surrounding the NFT industry.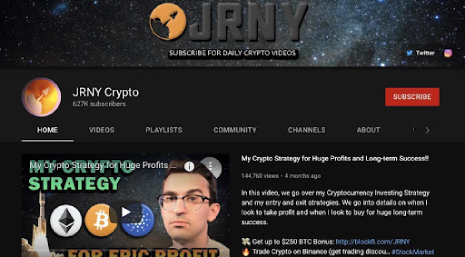 EllioDAO is a project founder who has been driving the growth of NFTs by encouraging other artists and creators to enter this new marketplace. His YouTube channel features cryptocurrency advice for beginners and experts alike. 
Bored Ape Yacht Club was one of the most spoken-about NFT projects of 2021, and it's not just because they have produced 1 billion dollars in volume. Notable celebrities across all genres are jumping aboard, too, including Jimmy Fallon and Timbaland. 
The cryptocurrency enthusiast is known for his work on CNN and CNBC. Anthony "The Pomp" Pompliano has been interviewed in several podcasts about NFTs. As one of the most popular NFT influencers, his YouTube channel contains various videos related to cryptocurrencies. One specific interview with Beeple is probably some of the most valuable content available right now in the NFT space.
Murat Pak is a well-known and highly sought-after NFT artist. He was the one who inspired Beeple (the top NFT selling artist) to enter the NFT space. Pak is quite popular among crypto enthusiasts as the "Satoshi of crypto art."
Flurnft is a unique NFT enthusiast and NFT collector. He gives away free NFTs and money for a follow. His tweets are an excellent source for information about new and upcoming projects. He has one of the best NFT collections with more than 4,500 assets, which makes him a valuable resource in today's crypto world.
As one of the top opinion leaders, Pranksy has been involved with designing and curating new NFT projects. Her tweets cover all news from different projects worth following, including her NFT project called "NFTBoxes."
The NFT influencer has built up one of the most valuable collections in this space on Twitter as an NFT investor and collector. He delivers objective insights about how to invest wisely within the NFT market, especially regarding blue-chip potentials.
Beanie is a popular NFT influencer on Twitter. His tweets about different projects and conversations with other collectors make him an easy favorite for many people to listen to. Through Beanie Capital, he supports up-and-coming NFTs and owns some top-tier coins like Crypto Punks and Meta Hero.
DC Investor is one of the first NFT influencers in this newly-created industry to think about the big picture. He has over 150k followers, and they all respect his ideas because he always views NFTs from a macro perspective. He aims at helping others understand how valuable these JPEG files will be as time progresses. 
After boarding the NFT train in 2019, this YouTube influencer has proved to be one of the most resourceful NFT influencers. He has provided many educational videos in the crypto and NFT space and has been among the first to speak on many trends, such as the sale of music through NFTs. 
Faroukh is an NFT influencer who has hosted some of the most popular rooms on Clubhouse. His audience now includes many different channels, including Twitter and Instagram.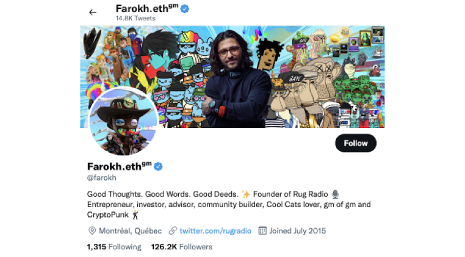 One of the earliest crypto punk collectors and one of the most famous NFT influencers, DeeZe, is also a YouTube influencer and Twitter content creator. He was one of the first people to start creating NFT tutorials, and he has continued to produce high-quality NFT content ever since. DeeZe's Twitter is always packed with information, along with discussions with top artists and photographers. He is constantly exploring new ways to use NFTs. 
Loopify's projects have been a game-changer in the NFT world. He started TheTreeverse as an interactive digital collectible and then created a metaverse that is now more than just a 2D-themed open world. It also includes 3D animations with different types of assets for owners to customize their experience — all powered by blockchain technology. Loopify is one of the best NFT influencers to follow.
Danny is one of the most inspirational NFT influencers and a successful investor in crypto, with a steadily-climbing net worth. He made his first fortune by investing early in Bitcoin and many altcoins; now, he's repeating this success through non-fungible tokens. When he first started collecting NFTs, Danny bought a rare Axie for $200. He made massive returns by snatching up top-tier items. He also supports CryptoPunks, as seen by having collected 22 different types of these crypto-collectibles, which have cost over $1m altogether. 
RealMissNFT is among the well-known NFT influencers on Twitter. Her column covers the main trends of that week, with an emphasis on supporting smaller artists. She also drops updates before new collections hit stores.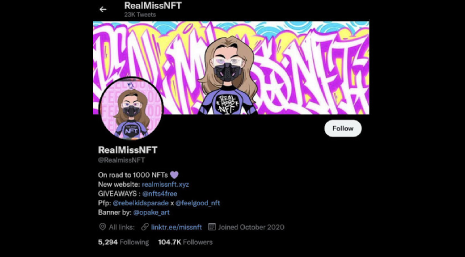 The founder and CEO of nft42, J1mmy.eth, is a visionary who has been creating online communities and providing informational content for several years now. The NFT influencer previously founded Dito, an enterprise cloud solutions provider that's pioneering new frontiers in blockchain technology with their on-chain NFT projects & metaverse works alike.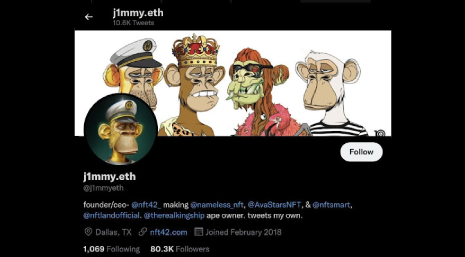 The Ohhshiny Show on Twitter Spaces is where OhhShiny, the host, brings together some of today's brightest minds in NFT. With each episode, this NFT influencer discusses topics related to the metaverse and fosters an environment for discussion on how it can be used best within our society at large and ground-level practices with entrepreneurs who make these visions come alive.
Hackatao is a Twitter artist with an innovative outlook who not only creates their own artwork but also tweets about the current state of NFTs and other artists' work. Their insights into both art history as well technology provide information on where we've been in recent years—and what's next for this community-driven platform.
MEV Collector is one of the most successful social media NFT influencers. He has over 2,500 assets and made 30,000% gains from one single collection—Loot Project. He explained that following smart money and trusting data led him to such massive returns within just a short period of time-frame. 
If you are new to the NFT space, then The NFT Times is an excellent resource. Aside from being focused solely on crypto-collectibles, they keep track of all relevant news via their YouTube and Twitter accounts.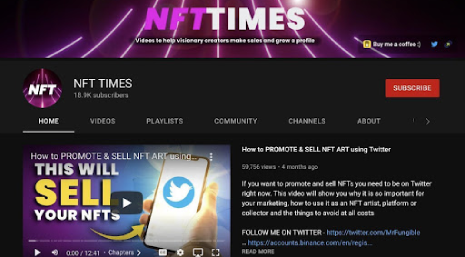 One of the rising NFT influencers, Ty Smith, is also the founder of Coinbound, a crypto marketing company that has helped major brands go to market. He also produces the NFT Lately newsletter with updates on recent and upcoming launched NFTs every week.

Wrapping It Up
As blockchain technology continues to evolve, so does the NFT world. It can be difficult to keep up with all the latest news and developments without following key NFT influencers. Influencer marketing, as well as NFT marketing, are powerful tools used to help build NFT brands. And by keeping tabs on the most popular NFT influencers, you'll have a better understanding of where the NFT space is headed and what new opportunities might be available to you in the NFT journey.