Telegram is one of the most popular resources for crypto trading signals. The messenger's format is very convenient for publishing crypto news and other important information. Subscribers of any telegram channel instantly receive notifications about new publications in the feed. For this reason, crypto signals telegram groups have hundreds of thousands of subscribers.
Crypto Trading Signals: What Are These?

These signals are valuable trading data that allow professional traders to quickly buy or sell cryptocurrency on the exchange. The signals contain five blocks of data.
Cryptocurrency Pairs
Most often, pairs are crypto & fiat, that is, cryptocurrency + fiat currency. A pair shows what to buy or sell.
Long and Short Positions
This is a key indicator of trade direction. A long one indicates a possible increase in the price of the pair, while a short one indicates a decrease. Accordingly, in the first case, an order to buy is opened, and in the second case – to sell.
Maximum Order Price
It specifies the price for the trade. If the crypto trading signal does not contain this information, then the broker will place a trade at the current price. The limit price creates a rule for the trade, which is most suitable for a short trading position.
A Stop-Loss Price
It is used for proper risk management practices in case something goes wrong and planned prices are not reached. When the price reaches the stop-loss value, the trade is automatically closed. Thus, the best crypto signals help to control the loss percentage.
A Take-Profit Price
This is the opposite indicator for stop-loss. This price allows you to take profits. This is how crypto traders indicate the desired percentage of trade profit.
The Required Rate of Return (RRR)
It is not indicated in all crypto signals. It shows the ratio of risk and profit, and it is used by experienced traders. It helps you to understand the exit point of the trade.
Free Crypto Signals
Such signals are often advertised, but in reality, there are very few of them. Most often, they are used in two cases: in pump-and-dump crypto trading and marketing.
Pump & dump is a technology used for the inflation of artificial prices with a subsequent price drop. A channel administrator usually buys the cryptocurrency and then makes a trading signal. Professional traders start buying cryptocurrency, and its price grows. At this point, the administrator sells his assets, and the price drops. The author of the idea is the only winner in this case, as well as his associates. Some crypto traders like to take risks when using the pump & dump strategy trading crypto, as it is similar to gambling and gives you a pleasant adrenaline rush. Profit is a secondary factor here, except that for experienced traders, it matters since they know how to deal with it.
Cryptocurrency trading signals for marketing are posted by crypto telegram groups. Often this is one trading signal, sometimes up to three signals per day, so that users could evaluate the quality and subsequently buy a paid subscription.
Less often, we see free signals from novice analysts. They use technical analysis tools and build strategies, while the results are posted for free. This is how the statistics are collected.
The Best Crypto Signals on Telegram
Below you will find an overview of the best crypto signals telegram channels. Most often, crypto trading group charges a fee, but most of the best crypto signal providers offer free signals to try.

This is the best crypto signals telegram channel. First, the team created a leading crypto education website, and then they began to develop a crypto signal group in crypto telegram. Later, they added a crypto telegram channel. Few signals emerge on the free channel – 3 signals per week, and you need to sit and catch them.
For those who wish, there are paid packages: monthly access fees for members are 42 pounds per month, 78 pounds per quarter, 114 pounds for six months, and 210 pounds per year. When paying for a subscription, you get 2-3 signals per day, and the probability of a successful entry is 82%.
This interesting offer to receive unlimited VIP signals for trading is provided for free. You need to open an account for at least 250 US dollars with one of the partner brokers.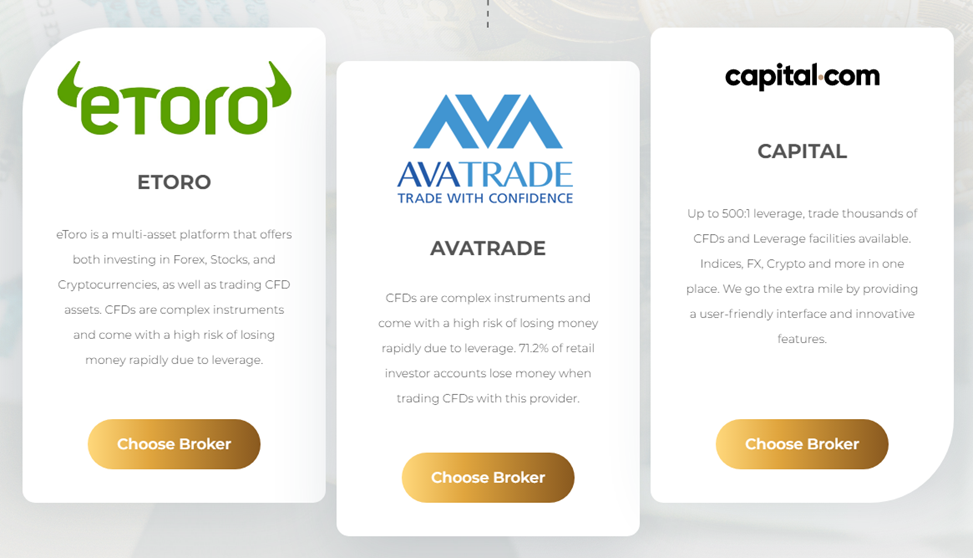 The colossal crypto signals provider team has its traders who, based on data analysis using artificial intelligence tools, generate the best crypto signals for trading crypto.
Technical analysis of different cryptocurrencies constantly appears in crypto news, which confirms the expertise of cryptosignals.org. For beginners, the website contains a Help section where even the most inexperienced readers in the field of finances can understand the terminology.
Trading signal service cryptosignals.org has a thorough approach to its work and offers comprehensive support to its clients. Their telegram channel is the most popular one and tops all the best crypto signals lists in crypto telegram.
Learn2Trade

This telegram channel with crypto signals is very similar to the previous one. There is also a website. But they also offer a trading signal for Forex. The team also includes qualified experts who use all available technical analysis tools.
The crypto trading signals service offers up to the 5 best crypto signals every day but within a paid subscription. For a month you will pay 40 pounds, for three months – 30 pounds. Six months cost 21.5 pounds, and if you buy an annual subscription, it will cost 18 pounds per month. The success rate is claimed to be 76%.
Similarly, you can get lifetime access to VIP crypto signals if you use the services of a partner.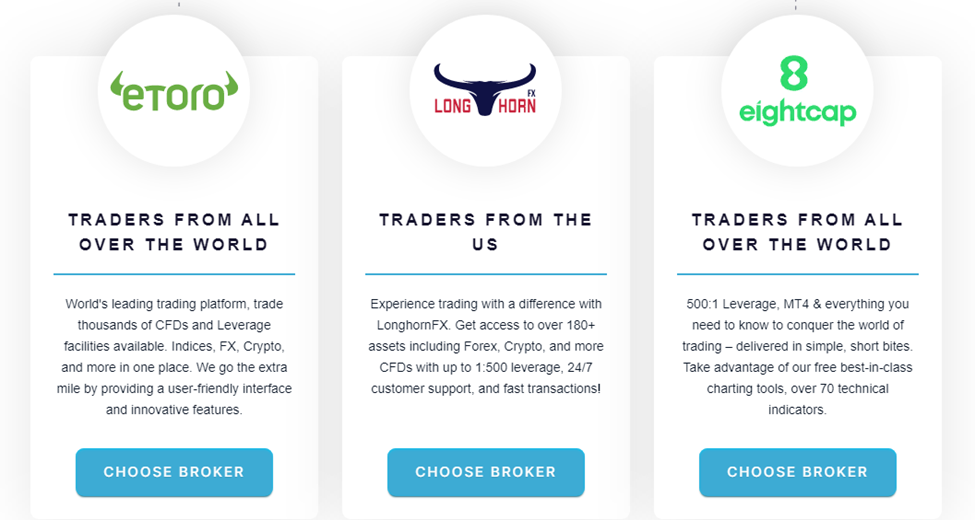 Three weekly crypto signals are published free of charge on the telegram channel.
On the website, you can find a training video, a description of traders, and answers to questions. In general, the channels are very similar to each other – in addition to the best crypto signals, they host crypto news.
MyCryptoParadise

This crypto signals space offers up to 80 multiple signals monthly for Binance and Bybit exchanges, as well as Bitmex signals. All of them are based on deep technical analysis. The crypto trading signals service is expensive. For example, Binance VIP costs from $369.00 to $2,369, depending on the subscription period.
On the website, you can find reports on the statistics on the use of crypto signals by users.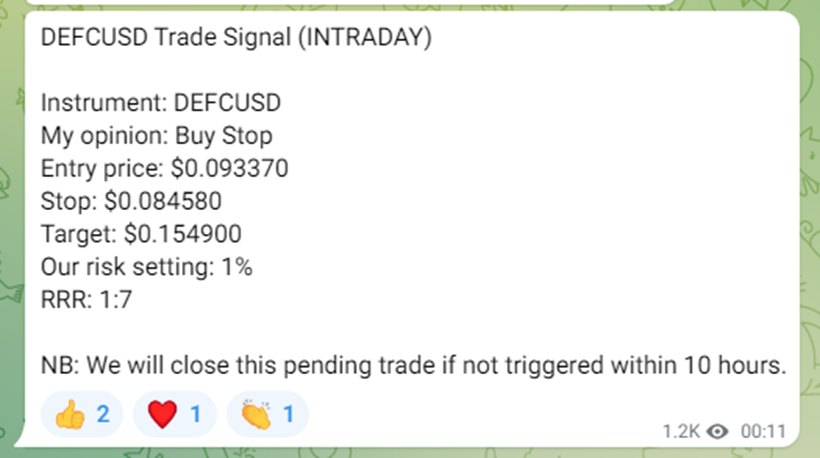 You will see that the providers carefully approach their work and offer high-quality services, albeit at a high price.
In the crypto telegram channel, you can find up-to-date insider crypto news, but there are no free crypto signals.
OnwardBTC

Three crypto traders and one marketer teamed up and created their telegram channel for crypto signals, including bitcoin trading signals. Their crypto trading signals service offers good crypto signals as well as trading bots. In total, there are nine crypto telegram channels which provide valuable trading data.
1. Technical analysis for VIP users.
2. Long-term signals that do not require immediate action.
3. Short-term signals that are valid for minutes.
4. General chat for VIP users.
5. Simple Bybit Bot.
6. Bybit Bot for DCA trading strategy, long-term.
7. Bybit Bot for DCA trading strategy, short-term.
8. VIP videos.
9. A channel for encryption of notifications.

The signal provider has been operating since 2019 and has already established itself as a reliable expert.
The VIP access costs $69 per month. Bybit members get a free month of access to crypto signals and crypto news. You can get access to free crypto signals for a limited time by obtaining a code on the website.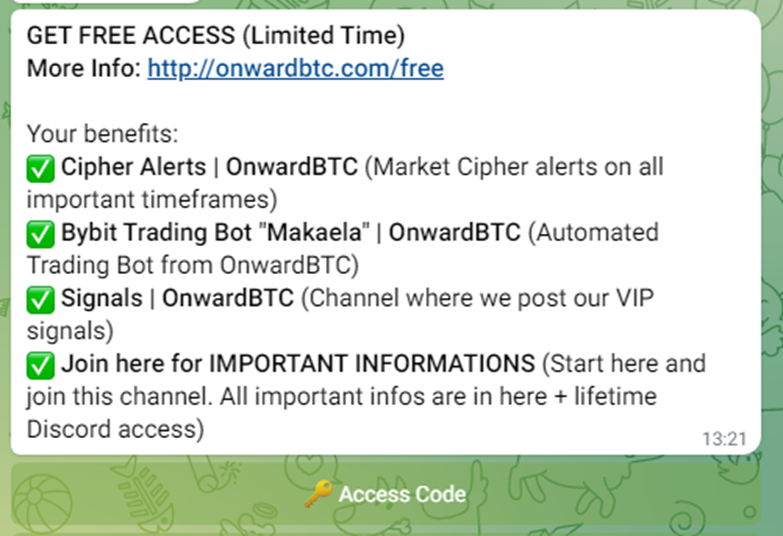 It also contains a table of closed signals, and it might help someone to study statistics and do some analysis.

This telegram channel is good for beginners due to its low cost and constant support. Automatic trading bots will be a nice addition, which is already included in the paid trading signal service.
MYC Signals
Initially, the Mycryptopedia project was launched as an educational project and was intended for everyone who wants to learn how to trade in cryptocurrency. The MYC Signals team consists of active qualified crypto traders still trading on the crypto market. The price for MYC Signals service starts at $60.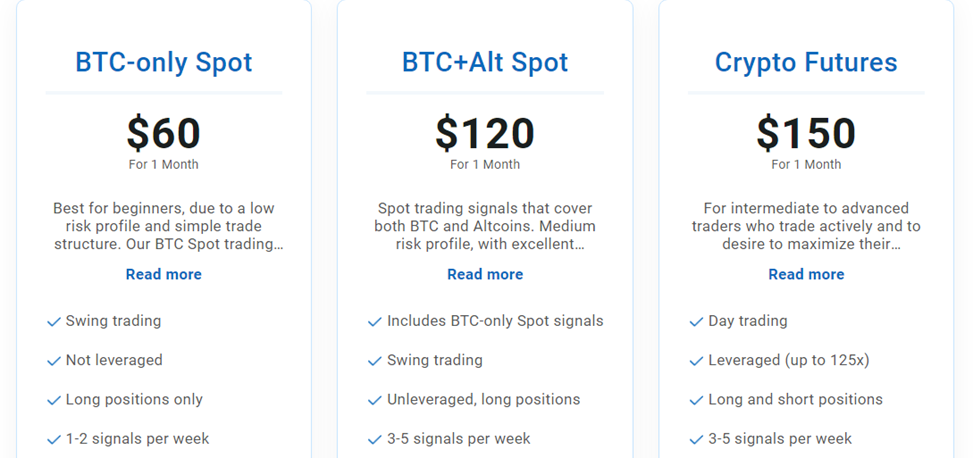 You can buy a full package for $225 per month. The packages differentiate by strategies. For example, BTC spot uses a "swing trading" strategy with lower risks. Users can get only one weekly trading signal but a highly profitable one. Buyers of a package with altcoins will receive 3-5 signals per week, as well as buyers of a package of crypto futures.
The telegram channel has over 33 thousand subscribers, and free crypto signals are periodically published, but with a delay after the VIP subscribers have read it, so you won't be able to earn a lot on them. It's more reliable to pay for your account.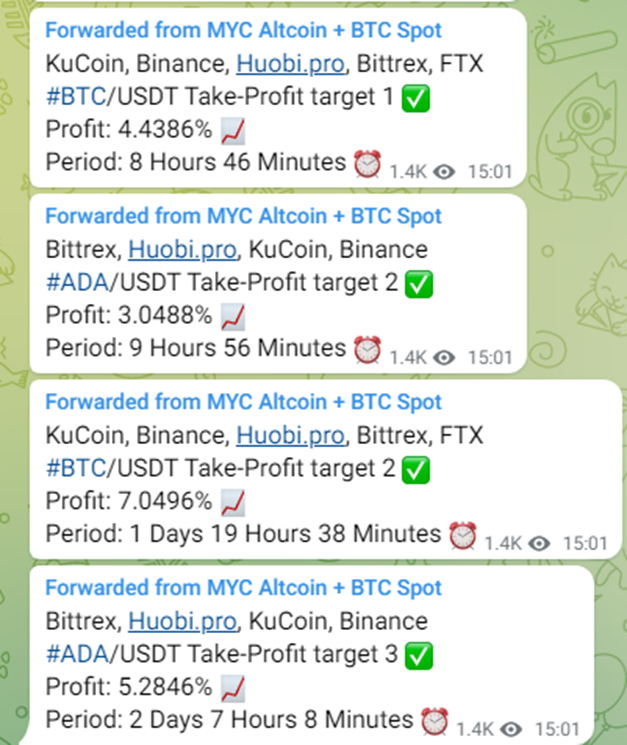 You can contact the MYC Signals team through the website.

Universal Crypto Signals

This professional traders team was built in 2018. Their telegram channel offers Binance signals, as well as Bitmex Bittrex, Binance Futures, Bybit, Kucoin exchanges, etc. According to the creators of the channel, the trading signal accuracy is 96%.
On the Universal Crypto Signals website, they offer technical analysis services for the crypto market, a trading bot, personal support, a user communication service, and recommendations for building an investment portfolio.
You have to pay for the crypto trading signals, and the price starts at $66 per month.

On many tariffs, in addition to automatic trading, manual and semi-automatic trading is supported. In general, 6 tariff plans will be interesting even for the most demanding traders.
On the free telegram channel, you will find only crypto news and advertising, no free crypto signals. The founder of the Saviour service publishes a free technical analysis on the website www.tradingview.com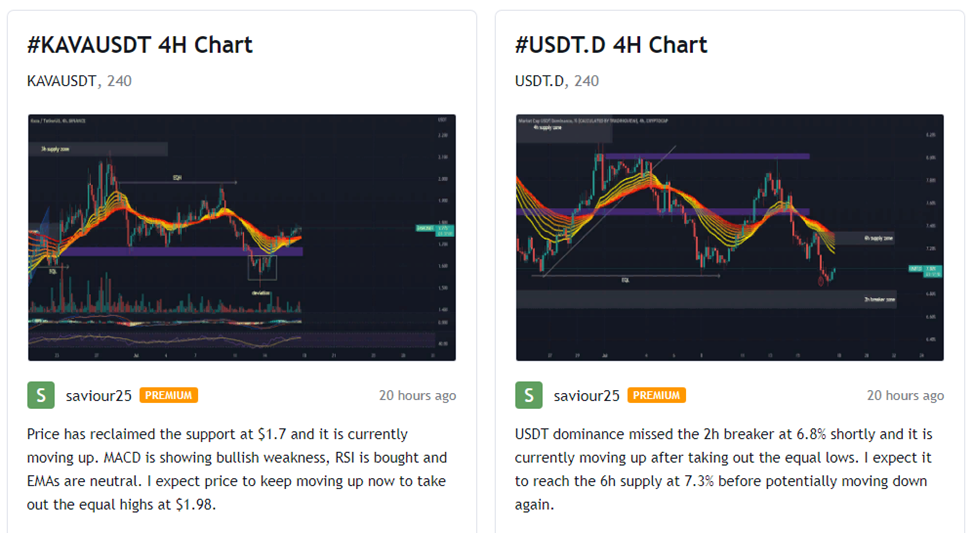 If you want to save money, follow the telegram channel. They publish up-to-date information about discounts on tariff plans. You can get this information every month.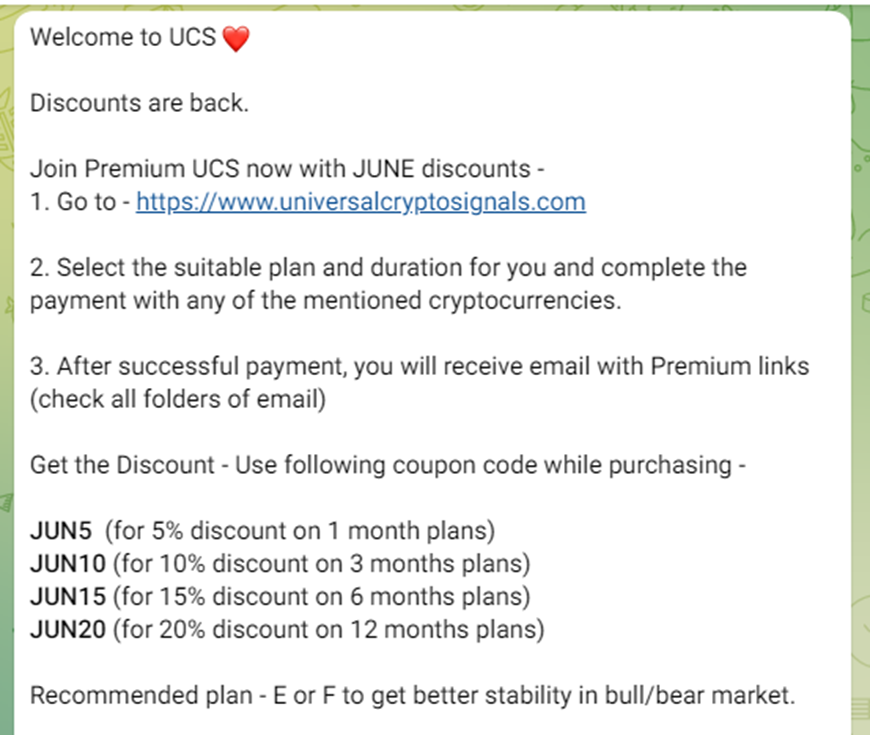 Crypto Classic Signals
Crypto Classic is a large crypto signals telegram group with over three hundred thousand subscribers. User reviews say that most crypto signals are profitable, and according to the Safetrading service, the accuracy is 80%. The average percentage of profit from the trading signal is 4.26%.

Crypto signals are commercial, and you can learn the cost from the administrator. The VIP subscription includes 4-8 signals daily, current crypto news, and information about crypto market updates.
Reports on the results of using one or another trading signal are constantly published on the telegram channel.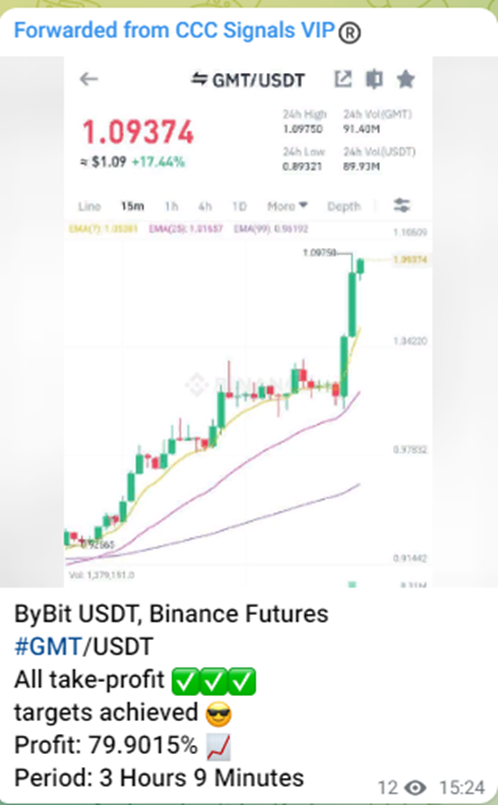 AltSignals
A telegram channel with futures crypto signals for Binance, as well as signals for Forex. It has been operating since 2017. All forecasts are based on technical analysis. The claimed profit of the trading signal is 80%.
They offer training in fundamental and technical analysis for a better understanding of crypto signals, a personal trainer, and comprehensive support. Navigating their website, you can see that they have been focusing on trust and sustainable work in the crypto market for 5 years.
A monthly subscription costs $118. For $1,675, you can get lifetime access to the AltArgo indicator, which automatically scans the market and generates buy/sell price recommendations.

The free telegram channel hosts reports and crypto news.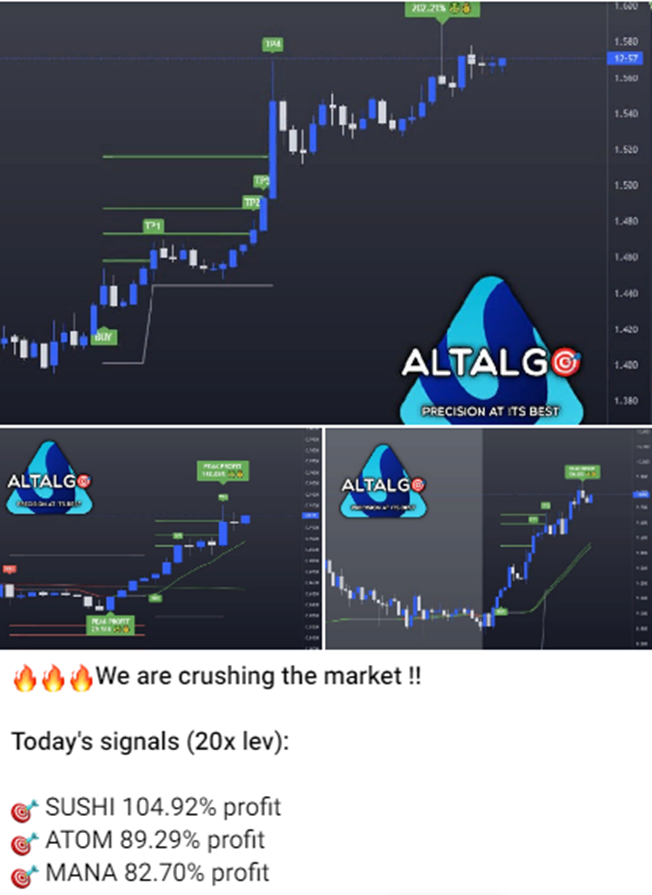 CryptoPapa
There are several crypto telegram channels with the same name. You need to choose https://t.me/cryptopapasignals or @cryptopapasignals. The team does not have a website, but there are a lot of free signals in the telegram channel.
The channel has been verified by the Safetrading service, according to which the accuracy of the trading signal is 80%, and the profit is 10.15%.

A monthly subscription costs $100, and if paid immediately for six months, the price is $400.
Judging by the reviews, the crypto signals of this telegram channel bring a good profit. For all questions, users contact administrators using the @crypto_tad bot. The trading signal can be sent to the Binance, Bittrex, Kucoin, Okex, and Kraken exchanges.
Fat Pig Signals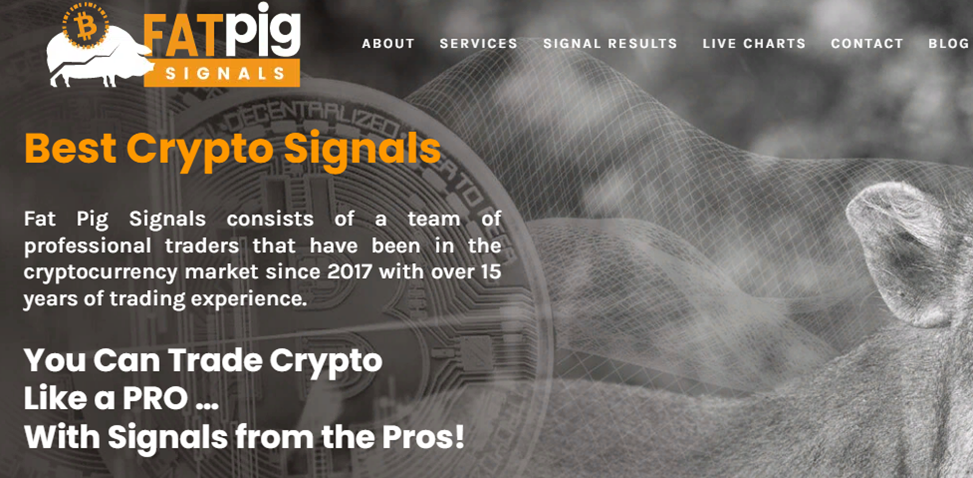 This crypto signals telegram group has almost 60 thousand subscribers. For advertising purposes, free crypto signals are posted on the channel – users can try using them before paying for a subscription. A trading signal is published approximately once a week.

Commercial crypto signals can be found on a private channel. Payment is accepted in ETH. One month costs 0.5ETH, 6 months cost 0.75ETH, and annual subscription price is 1.25ETH.
The Fat Pig team looks beyond the crypto signals. They also analyze other earning opportunities. They offer recommendations for choosing a trading platform, platforms for farming, building an investment portfolio, and altcoin reviews. The website contains the latest crypto news, while the price forecasts are posted on the channel.
Rocket Wallet Signals
On the website, the team positions itself as a portal for investors, created for support and education. Each trading signal is made by analysts based on fundamental and technical analysis. They also offer consulting services.
A VIP channel subscription costs from $150 per month to $900 per year. There are more than 30 thousand subscribers on the official telegram channel. Approximately once every five days, they release a free crypto trading signal, and the results of the analysis are also published.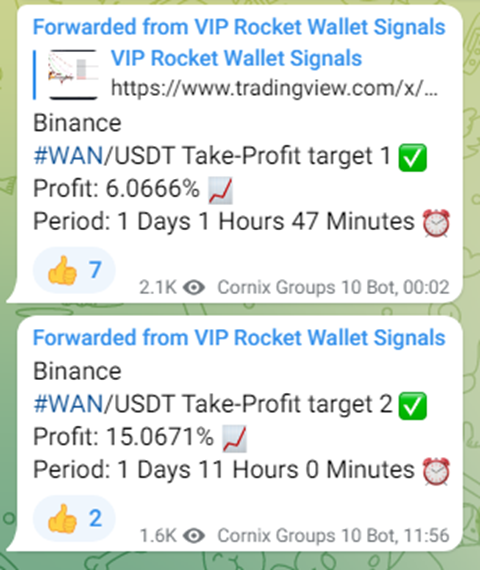 According to Safetrading, the reliability of crypto signals is 76.92%, and the profit is 12.86%.
Mike Crypto Signals
This crypto signals telegram group has 5,802 subscribers. You can find free crypto signals and final reports here. Sometimes a trading signal looks like a screenshot from a VIP channel.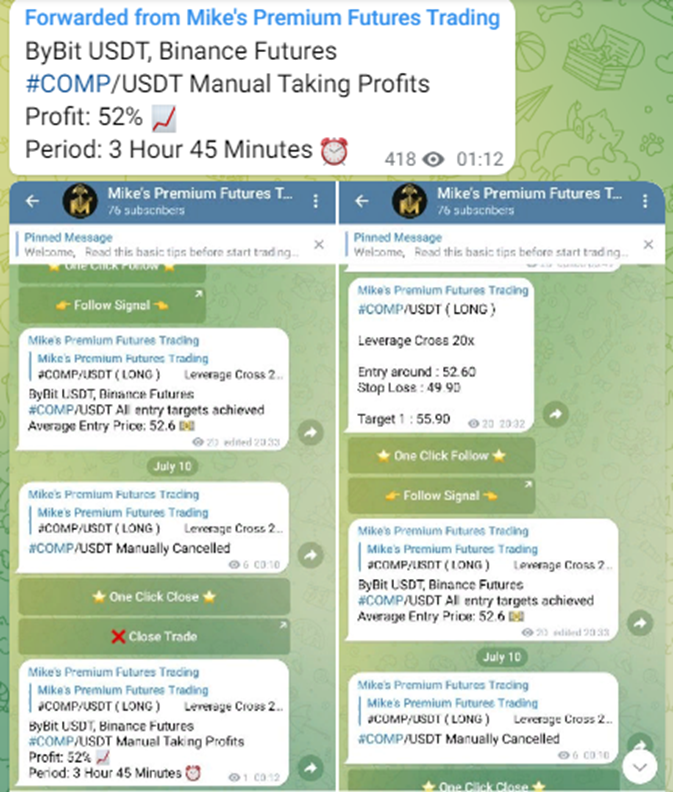 Crypto signals are available for Binance, Bittrex, Bitfinex, Poloniex, Okex, Kraken, and Bitstamp exchanges. They offer two paid channels – futures and spot trading signals on Binance. A monthly subscription costs $250, three months cost $550, one year costs $1,500, and a lifetime subscription to both channels costs $2,450. The number of signals on the spot channel is 20-30 and on the futures – 45-60. It ensures auto trading and a complete absence of advertising.
Verified Crypto Traders

Verified Crypto Traders is a legally registered company offering fundamental and technical analysis of the crypto market, investment advice 24/7, personal support, video tutorials, etc. The number of subscribers is approaching 40,000 people.
The Platinum Club plan costs from $99 per month to $999 per year. All services are paid, and you have to pay to access private crypto telegram channels. The free channel publishes the results of technical analysis, which can be used by experienced traders.
The website contains the results, but the latest report is dated December 2021.

What Should You Pay Attention to When Choosing Signal Telegram Groups?

Cryptocurrency raises distrust and anxiety among many people. Since the crypto space is still very young and is just beginning to develop, users often encounter fraud. The desire to quickly collect money from gullible customers and disappear attracts dishonest entrepreneurs.
On the other hand, right now, we have the opportunity to invest at high-interest rates or successfully trade on a crypto exchange. This is a very attractive opportunity to improve your financial situation. Crypto signals are of great help and attract many users to the crypto space.
To avoid the tricks of scammers and get income, each user must learn how to analyze crypto offers in respect of fraud. This is not such a difficult task, especially in the crypto world, which is open and being discussed a lot. We have collected several recommendations from experts to tell you how to choose a useful crypto signals telegram channel.
Time of Existence
In the crypto world, we are not talking about decades yet. But you should note that scammers collect funds quickly enough and disappear. So a channel that has been running successfully for over a year is likely to be reliable.
Partner Links and Affiliations
If access to useful information depends on clicking on links and there are too many of them, likely, the channel owners are simply making money on some affiliate program. There is nothing wrong with the partnership itself, provided that the channel itself also provides many services.
Number of Subscribers
There are very young channels that have not had time to unwind. You can try to use one trading signal from such a crypto signals telegram channel for the sake of verification. Often such resources provide free quality signals. But if you need reliability and sustainability, it is better to subscribe to an advanced crypto signals telegram channel.
Listings on Statistics Websites
Check if the channel has an "Approved" status. You can do it at safetrading.today and safetrading.info. Here you can find user reviews, as well as technical information and channel descriptions.
Experts' Test Results
On the Internet, there is a huge number of reviews for various channels. The more often a telegram channel enters the TOP list, the more likely it is not a scam. A simple data analysis will help you to choose reliable channels.
Also, you can check out some expert research, for example, at cryptoinformator.com

On some websites, administrators communicate with users, receive information from them, or even perform on-demand verifications, for example, at signalreviews.com
User Reviews
Check out multiple websites with reviews. Especially useful are active crypto signals telegram groups with communication, forums, and crypto community in Discord. The more reviews, the more popular the channel. Often traders analyze each trading signal, and you can learn from them.
Cost of Services
It should match the quality of services. Too high a price may not pay off. In addition, the choice is wide enough, and you will surely find quality signals for a lower price.
If we take beginners, then it is better to pay a little more than to choose crypto signals providers that provide consulting services. Educational articles and videos do not always help you to understand the real situation of the crypto exchange and use the trading signal correctly.
Availability of Reports on the Website
It is an important component of trust. Usually, reports are posted by those crypto signal providers that are successful. Experienced traders can easily check the accuracy of the published information for each trading signal, and in case of inaccuracy, they immediately report it on the Internet.
Availability of Automated Trading
Manual bidding is labor-intensive and time-consuming. It is easier to set up a bot and provide it with all the trading signal data. When choosing among crypto signals telegram groups, decide for yourself whether you will use automation and, if so, find out if this is possible with the selected channel.
Availability of Feedback
It is a must-have for commercial telegram channels. From the reviews, you can find out the response speed.
Additional Benefits
A competitive crypto market makes Telegram channels compete for customers, so most crypto trading groups offer their bonuses. For example, Cryptosignals and Learn2Trade offer a 30-day money-back guarantee. If your trading runs unsuccessfully, you will be refunded the cost of the first month's subscription.
Some channels post free signals so that users can evaluate the quality. Some people create VIP channels for communication. Often you will see offers for technical analysis data transfer or regular discounts.
Exchanges and Pairs
Pay attention to the list of exchanges in the description of the telegram channel, and also look for which pairs the signals are offered. There are a lot of altcoins and if you are targeting some specific ones, check the availability in the channel signals.
Frequency of Signals Posts
A constant generation of signals should alert you. It may mean that some of the signals are not based on technical analysis but are made at random. However, too few signals are also a bad sign. This means that you will not earn, and the paid tariff will not pay off.
The usual practice is one trading signal, a maximum – of two. Only a large company with a large number of crypto traders (analysts) can post more signals.
Telegram Channel Promotion
No matter how great crypto signals are mentioned in the provider's post, all the work will be wasted if no one knows about them. Telegram channel promotion is one of the services of the ICODA marketing agency.
The usual methods to promote Internet resources with Telegram do not work – commercials in search engines are prohibited, messenger advertising is available only if you have a certain number of subscribers, and you still need to find them. Many people use bots, but Telegram can ban the channel. The behavior of existing and new subscribers is also important.
ICODA will offer you absolutely trusted crypto marketing services. We will prepare a media plan, contact the best crypto influencers, and place a link to the channel with the leading aggregators. By participating in reviews and publications in top media, your channel will be known very quickly, and the number of subscribers will start to grow. The non-standard and creative thinking of our team ensures that the number of subscribers will start to grow immediately.
Contact ICODA, and we will quickly provide you with a plan to promote your business. We will help you to build a crypto community around your idea, and very soon, the clients will start working for you, publishing user-generated content and recommending your channel to their friends.