Many events dedicated to blockchain and its technical term are taking place in New York. In this article, you'll find out about the nearest and largest events that in term are held in New York.
JCTM Presents: NFTs Beyond Art – Building Community on the Blockchain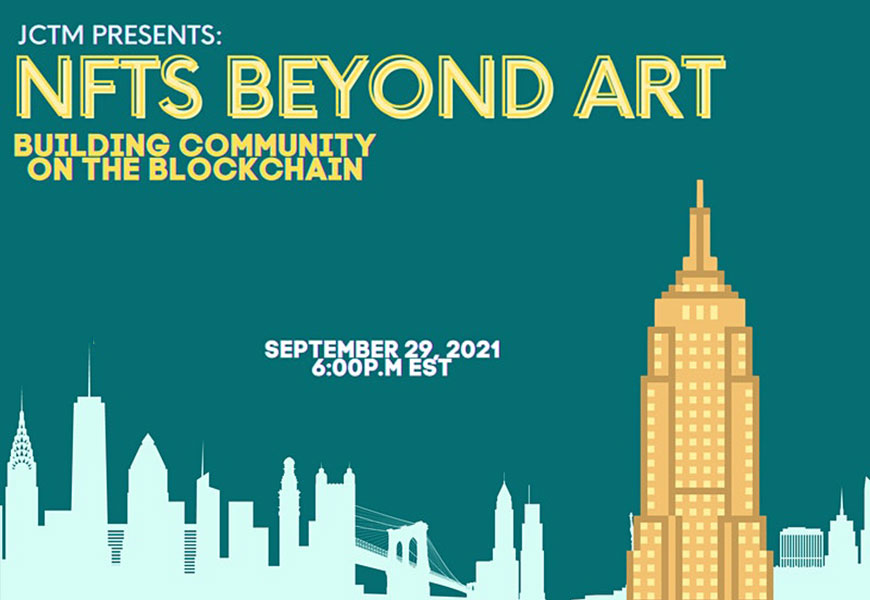 In the context of the crypto-gold rush, NFTs are proving to be something more than just a flash in the pan. Find out how New York City artists, creators, entrepreneurs and corporate organizations are using the potential of Web 3.0 to see the explosive growth of business and community.
The growth in the number of non-interacting tokens and blockchain technology is undoubtedly changing the way companies interact with their end-users. But is this really a violation of existing business models or just signals the transition to decentralized platforms? Why is NFS called the "new Internet"? These issues will be dealt with in New York at this event.
The boots on the ground team of experts in New York will tell you everything you need to know about the current trends of NFS and where this technology will lead us in the future. Take your notebooks and your questions with you — this group of Web 3.0 pioneers will open up opportunities that you didn't even think about. Perhaps this event will also be an online event. You should sign up before Mon, Sep 27. It is also better to register for an online event in advance.
You don't need to beep to be successful in this emerging market. Join this Empire Creation Labs event in partnership with a technical meeting in the Jersey City term on September 29!
Date and time:
Wed., September 29, 2021
6: 00 PM – 9: 00 PM ET
Location:
201 Montgomery Street,
Jersey City, New Jersey,07302, USA

Blockchain and the Democratization of Philanthropic Giving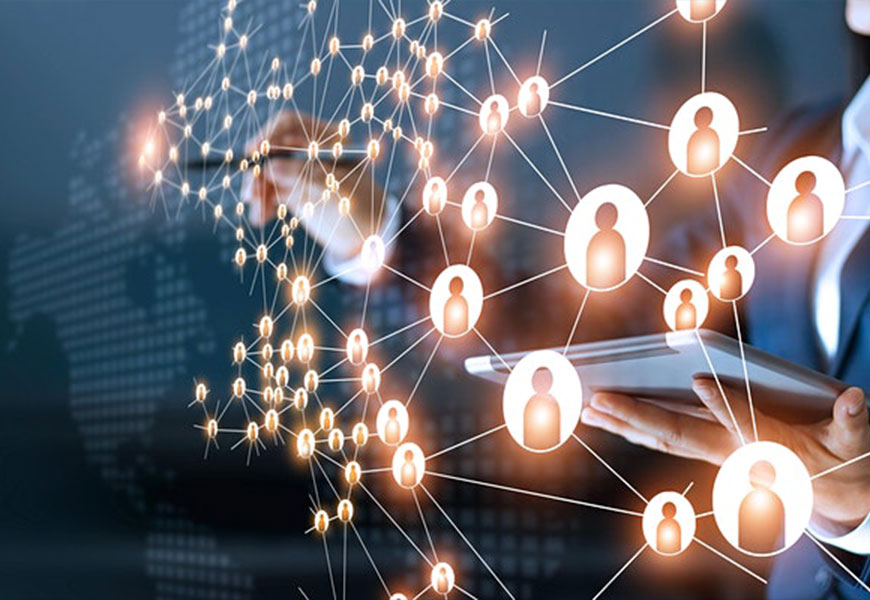 The Institute of Health Finance (HFI), in partnership with Sand Clock, will hold a panel discussion on the opportunities that blockchain-based strategies provide for new ways of providing, as well as on balanced views on problems in low-and middle-income countries.
Here are some of the open questions:
How can charity be democratized, more responsive to local needs and have an impact?
And how can these technologies be used to fill the gaps in the financing of the UN Sustainable Development Goals (SDGs)?
In addition to listening to a group of experts from different sectors, participants will discuss issues that HFI and its partners are working on.
Given the context of COVID, this will be a hybrid event. Personal attendance will be limited, so please only register for the event in person if you are fully vaccinated and in New York on Wednesday, September 22. A waiting list will also be present and maintained.An online event will also be held. If you are not included in the list, it is possible to attend an online event.Or if you are not fully vaccinated or are not in New York on this day, please register for an online event.
Date and time:
Wed., September 22, 2021
4: 00 PM – 6: 00 PM EDT
Location:
Harvard Club of New York,
35 West 44th Street,
New York, New York 10036
USA
BitMart ✕ Fenbushi Capital Mainnet 2021 Private Event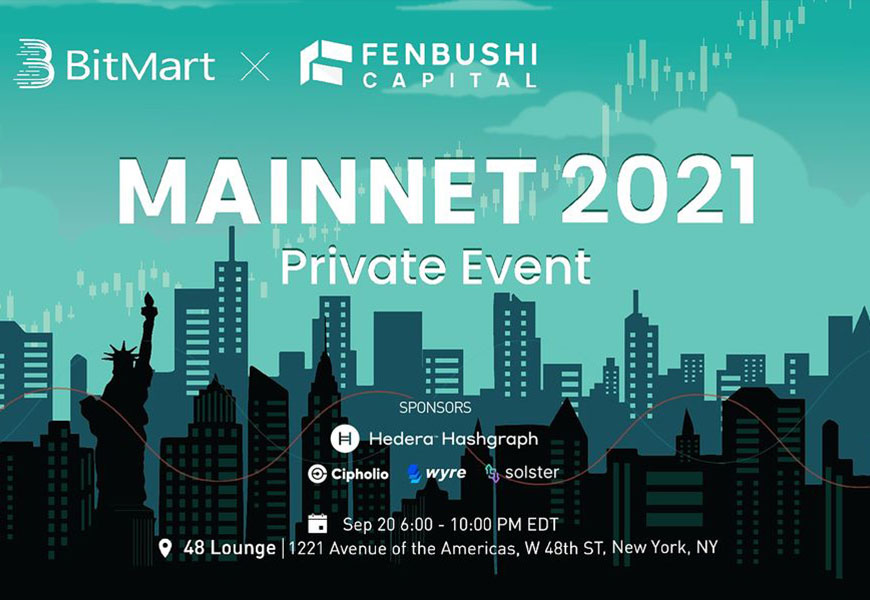 This is an invitation-only event in New York. Registration does not guarantee entry. Come to our stand at Main net 2021 to check if it meets the requirements. Please do not forget to bring your vaccination records or negative Covid test results (within 72 hours) to the venue.
BitMart invites reputable cryptophones, projects, accelerators, institutions, media, trade and legal partners and much more to collect and establish connections. The main goal of the event is for our blockchain/cryptography colleagues to succeed in finding funding, technical cooperation, token listing and regulatory support. Please come to our Mainnet 2021 booth during the day if you would like to receive an invitation.
Date and time:
Mon, September (mon sep) 20, 2021,
6:00 PM – 10: 00 PM ET
Location:
48 Living room, 1221 Avenue of the Americas,
W 48th Street, New York,
New York 10020, USA
Blockchain Tech Summit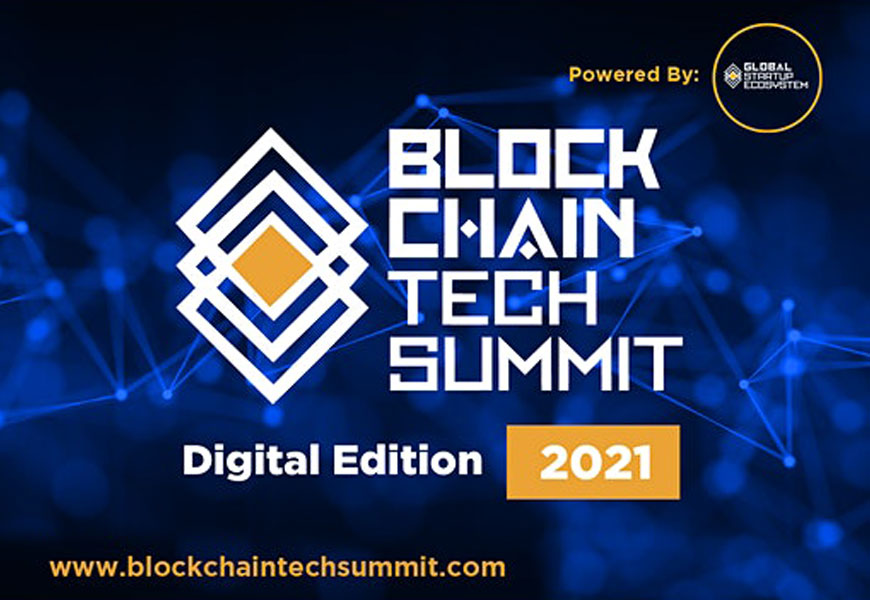 To accelerate the development of blockchain technologies in the industry, the Global Startup Ecosystem (GSE) will hold the 4th Annual Blockchain Technology Summit-a Virtual edition from 10 AM to 00 PM.
The Blockchain Technology Summit is a unique event in the world, where hundreds of businessmen, investors, pioneers and creative people, including web designers, come together to solve the most important problems of humanity with the help of the new blockchain technology. The summit is also educational. It teaches the basics of blockchain technology, the main applications of blockchain technology and strategies for the development of startups and new business ideas through exclusive seminars with internationally recognized experts.
Previous speakers were:
Alex Mashinsky, founder of Celcius Network,
Salman Baset, Technical Director for Security, IBM Blockchain Solutions,
Evan Cohen Sr., Director of Blockchain and Crypto Investment,
Peter Sexton, Director of the US Department of Commerce for Global finance, and others.
Date and time:
Tue, September 27, 2022,
10: 00 AM- 00 PM ET
Location:
VIRTUAL EVENT,
11 Times Square, New York,
New York 10036, USA
Chainlink: Messari Mainnet Happy Hour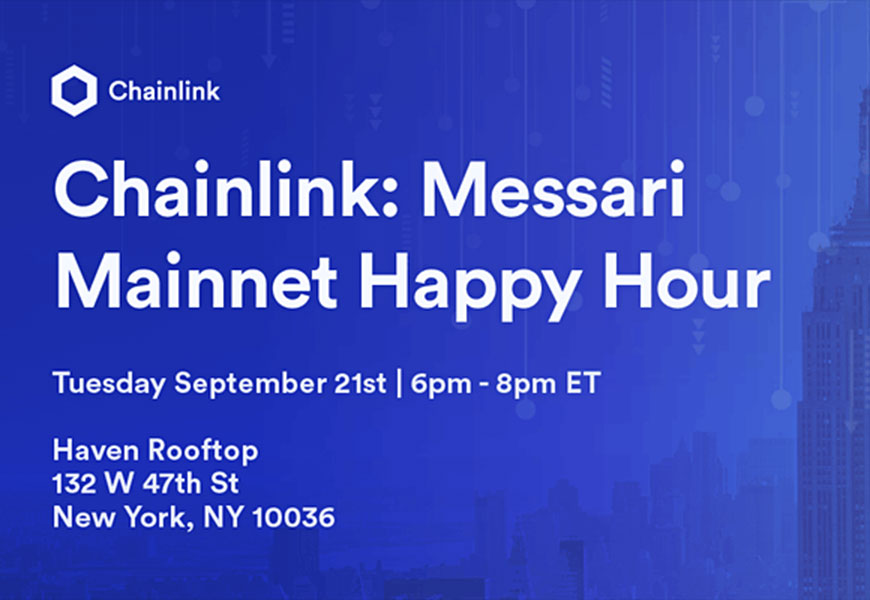 Join this event in New York for fascinating in-depth discussions about decentralization, smart contracts, oracles and much more over food and drinks. The Chainlink Labs team and other leaders of the crypto industry will take part in the Messari Mainnet happy hour event. This event recommends that you follow the local recommendations for dealing with the pandemic. There is both indoor and outdoor space designed for large groups and in inclement weather. Chain Link is a standard oracle industry network for implementing hybrid smart contracts. Oracle Chainlink's decentralized networks provide developers with the largest collection of high-quality data sources and secure offline computing to expand the capabilities of smart contracts on any blockchain. Managed by a decentralized global community, Chain Link currently provides billions of dollars worth of smart contracts in decentralized finance( DeFi), insurance, gaming, and other large industries.
Chain Link is trusted by hundreds of organizations, from global enterprises to projects at the forefront of the blockchain economy, to convey the ultimate truth through secure and reliable oracle networks.
Date and time:
Tue, September 21, 2021,
6:00 PM-8:00 PM ET
Location: Shelter on the Roof,
132 West 47th Street, New York,
New York 10036, USA