A scam is a common term for Internet fraud. With the emergence of digital currencies and the development of the crypto market, scammers have become more active in using scam schemes on the World Wide Web because, for most people, cryptocurrencies are still a new uncharted world where one can easily believe any information.
Personal Details of Social Networks of Meta
The Instagram platform is part of the social media conglomerate Meta (META), which also includes Facebook and WhatsApp. According to analysts' reports, 32% of all social media scams come from the famous Instagram platform, with Facebook and WhatsApp accounting for 26% and 9% of all scams.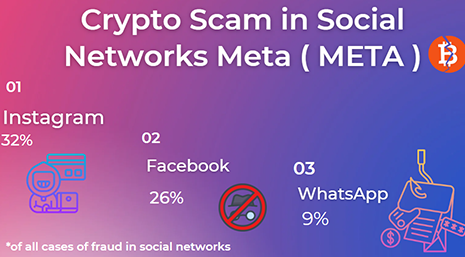 Why Do Scammers Concentrate Their Crypto Scams on Instagram?
The specifics of Instagram social media platforms set this service apart from the rest. Instagram belongs to the social networks of the visual type. That is, the entire narrative is built around the published graphic content. The platform has live traffic and has been steadily in the top 10 of the most downloaded applications in the world for the last few years.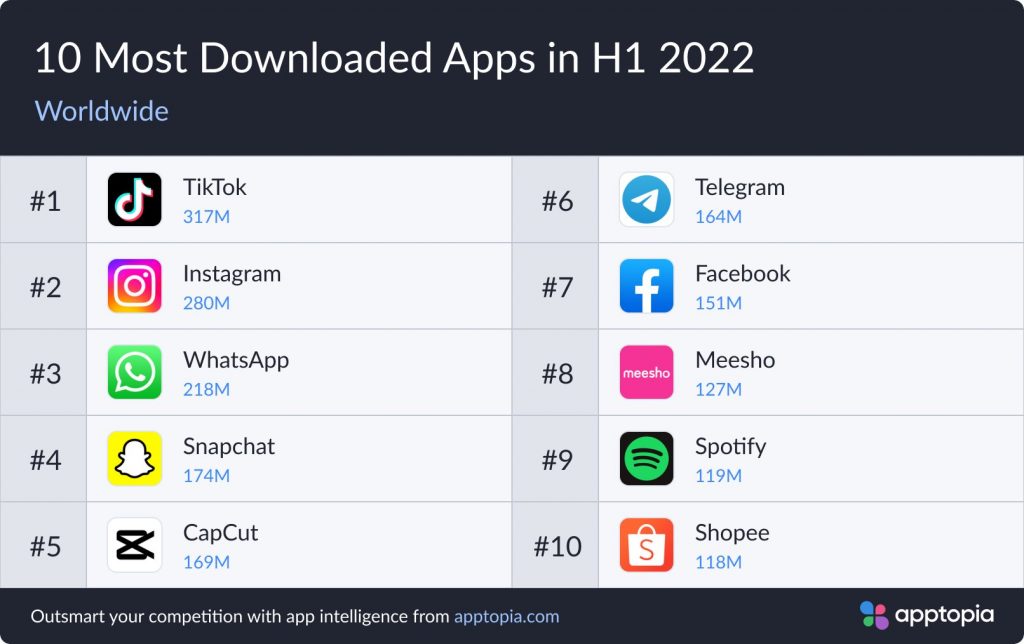 Instagram quickly enough developed from the classic social media segment to become the main platform for business promotion and personal brand monetization, with 2 billion registered Instagram accounts, and 500 million Instagram accounts active daily.
Special promotion strategies and methods were developed and formed into a full-fledged industry of SMM services. This has led to the fact that today, social network has become a powerful (and often the only) marketing channel for brands and businesses. It is not for nothing that advertising revenue on Instagram was estimated at $26 billion in 2021—all this money came from promotion on this platform.
The ease of visual content, the ability to influence almost 23% of the entire population of the planet with a single tool, the accessibility of registration and the speed of publishing information have positively influenced the use of the platform by fraudsters, including Instagram crypto scams projects.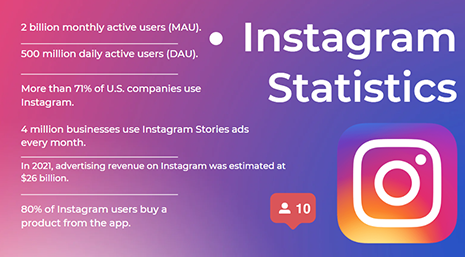 What are the Money Scams on Instagram?
Invest 1 BTC—you get 2 BTC
Perhaps this is the most common scheme. And it is relevant not only to Instagram. Such a way of deception is used by scammers on YouTube, Twitter, Facebook and other social media networks. Cryptocurrency investment scams offer their followers a unique income scheme: invest in our company now, and we will pay you twice as much back.
There is no doubt that receiving big returns from a user on a social network. Bitcoin scams create the appearance of a successful business in cryptocurrencies and an expert in investments: they publish content about finance, the crypto market, and investments without in-depth analytics.
"Lifestyle" is also added—a life of a scammer is like the dreams of most modern people: a lot of traveling, nice food and cars, not dusty work at the computer. The potential victim has no doubt that after their "profitable" investment, they will be able to provide themselves with the same beautiful life.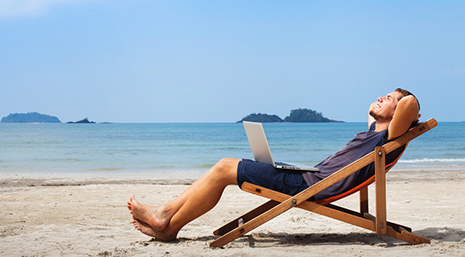 The scammer offers in direct messages to send money to a bitcoin wallet address so that in a certain period of time, they would receive a double reward. However, immediately after receiving money, scam accounts are blocked or deleted, and funds are lost.
Account Hacking
Hacked social network accounts are different types of Internet scams. Compromised accounts act as a lure and data provider for sophisticated scammers, who use the opportunity to contact a future victim on behalf of the account owner.
Celebrity accounts get a lot of attention in this case because the credibility of Influencers and celebrities is high.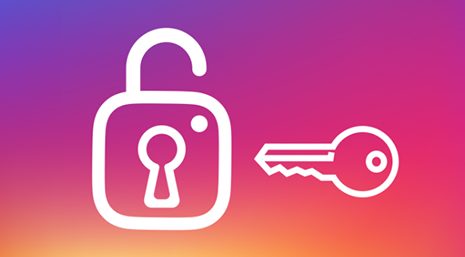 Bitcoin Scam in the Shadow of Romance
The Federal Trade Commission (FTC) has identified a "romance" scam, distinguishing these cases from other scams.
In this case, the scammer contacts the potential victim and tries to establish a relationship of trust and friendship. Direct mail correspondence does not touch the subject of investments and cryptocurrencies, to begin with. Personal correspondence is shifted to financial topics after the potential victim has put the scammer in friend status. Under the guise of "secret advice for a friend" or "a unique chance only for my friends", the scammer offers a risky investment scam, which, according to his words, should bring a large profit to the participants.
The promise of big money from a "friend's account" misleads the social network user.
The ideal medium for investment is cryptocurrency—scammers specifically target this type of asset, as bitcoin transfers can be received in a matter of minutes.
After the victim sends the cryptocurrency to the specified details, the account of the "friend" is deleted without the possibility of finding it.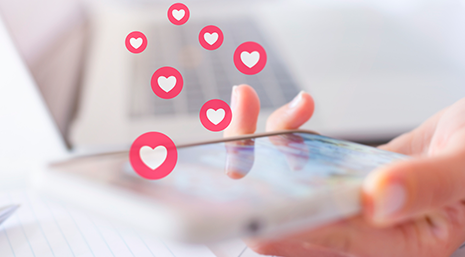 Phishing on Instagram
Instagram is an ideal platform for phishing. You can create dozens or hundreds of accounts with the necessary visuals to lure victims. These can be hot giveaways, clones of popular accounts of crypto exchanges, Influencers, crypto stars, and blockchain analytics services.
It is important for potential victims to go to the desired site and download phishing software that ensures that the credentials where your cryptocurrency is stored are opened and transferred to the scammers' accounts.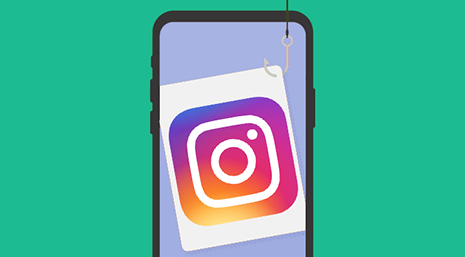 Bad Advice From a Star
As we said, Instagram is now a platform for advertising and selling your own product. Very often, celebrities, including the most popular ones, advertise. However, these recommendations don't always carry fair advice. Sometimes it's just a scam.
This is how television star and model Kim Kardashian (329m followers), boxer Floyd Mayweather(28.3m followers), and basketball player Paul Pierce (930k followers) spread ads in their accounts about the cryptocurrency EthereumMax.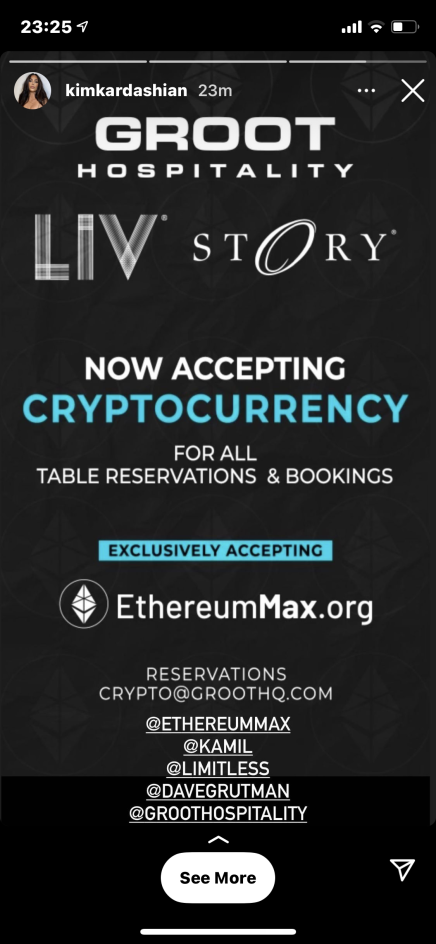 It was later found to be fraudulent, and the celebrities faced a class action lawsuit filed by the defendants in the U.S. District Court for the Central District of California. They are accused of "making false or misleading statements about EthereumMax through advertising on the social networking site Instagram."
Bitcoin Mining
Mining can also become a subject of fraud on Instagram. A common fraud scheme: con artists take advantage of citizens' interest in cryptocurrencies and offer to rent capacity for highly profitable cloud mining. To begin with, victims are offered to pay for verification for an account in a mining pool. Here, the scammers can limit themselves to the received fee and disappear or take advantage of the victim's personal details and steal more money from the bank account. Every day in this way, thousands of dollars are deducted from the bank accounts of unsuccessful miners.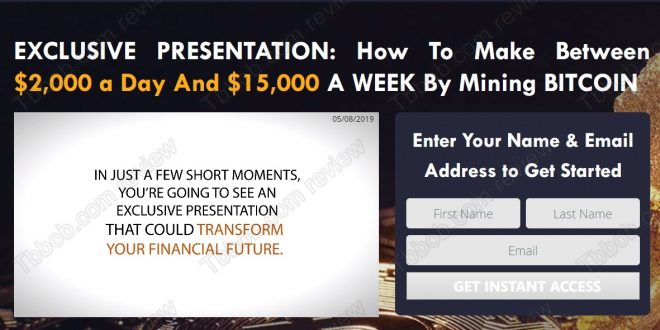 How Can you Tell a Scammer on Instagram?
There are several unbreakable signs by which Instagram users can detect scammers on social media:
The Rush to Make Bitcoin Investments
Scammers try as soon as possible to induce the user to the necessary action so as not to give time to realize and think about what is happening. Often manipulative actions, pressure on pain, and emphasis on the possibility of missing the profit are used for this purpose.
Emphasis on the Exclusivity of Information
Fraudsters offer uniqueness, exclusivity, and secrecy, which they are willing to share only with a trusted circle of people. Potential victims like the opportunity to be in the luxury club, so this ploy often works on social networks.
Non-refundable Transactions
Bitcoin, Ethereum and other cryptocurrencies have become the best chance to enrich themselves at the expense of others due to the non-refundability of transactions. Fraudsters only have to convince you to make one transaction—a transfer—to get your cryptocurrency. Blockchain provides the irrevocability of such manipulations, and bitcoin mixers and a transaction anonymizer help to hide the true origin of funds in wallets.
Promise a High Return on Investment
Cryptocurrencies can really bring high profit to their investors, but only in case an investor understands the market himself, can calculate the efficiency and safety and doesn't trust unverified information. In case of promises of high yield without a specific business plan and profit calculations, one can expect not only growth but also loss of all assets.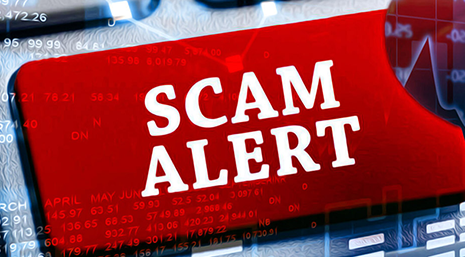 Can I Get Scammed Through Bitcoin?
Bitcoin is an established value transmission system and a recognized investment vehicle. At the same time, there is a halo of misunderstanding around it, where not every investor fully appreciates the possibilities of this cryptocurrency.
It is this lack of knowledge and misinformation that gives rise to deception. You can be duped through Bitcoin, but only if you do not fully understand the concept of cryptocurrency and the cryptocurrency market.
The higher your level of immersion in asset management, the more in-depth your study of the market situation and factors affecting Bitcoin's price movement, and the less chance the scammers have of getting your crypto investment.
To avoid falling into the hands of crypto scam projects, you should follow a few simple rules.
How to Protect Yourself?
There are several rules of crypto investor behavior that will help keep your bitcoin and altcoins safe:
Educate Yourself
Don't enter the market or an investment project without fully understanding the meaning of its work and existence. Study the literature, listen to recognized experts, seek advice, and learn to understand the mechanics of this asset type.
Take Your Time
Loss of profit syndrome—making unreasonable quick investment decisions because of an acute desire to under-receive profits from an asset.
This is what crypto scammers count on, trying to confuse and rush you so that the user has no time to make a sober risk assessment.
Do Your Own Investigation
As you can see, even the most famous Instagram stars can not always be trusted in terms of their investments. Always rely only on your own rational decision. Study information about the cryptocurrency and the platform in which it is offered to invest. Read the technical documents of the project, assess the level of innovation and technological relevance, and compare the promised rate of development with the original one. Be a Crypto Sherlock Holmes so that no crook can take your hard-earned money away from you.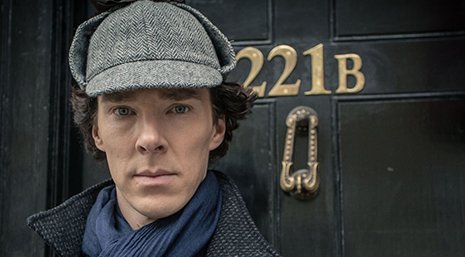 Conclusion
Don't blame cryptocurrencies and Instagram in general for the fraud problem. There are dishonest people everywhere, both in the fiat world and in real everyday life. Now the maximum attention of mankind is concentrated on social networks. Of course, scammers will try to use this to their advantage.
The main rule of safety – do not listen to big words. Let them say even the most famous Instagram star. Only an independent decision will allow you to take responsibility for profit and avoid irreversible loss.