Financial regulation causes difficulties for citizens of different countries, especially when it comes to cross-border payments and taking cash abroad.
For example, if you take with you more than €10,000 from the EU, customs will require you to file a tax return stating the origin of the money. And in some cases, customs may require documents even if the amount is less than €10,000.
The same applies to non-cash transfers. The question is what to do if you need to transfer the amount as soon as possible because the higher the amount, the greater the likelihood that you will be subject to a financial audit, which can take a while.
Also, for various reasons (such as local restrictions), you cannot transfer amounts that exceed a certain limit, and even to some countries. It all depends on which country you are sending money from.
You can find nuances emerging that you need to deal with (separately in each case). It is much easier and faster to convert funds to cryptocurrencies and transfer them to another person or leave them in your wallet when you move to another country yourself.
In this article, we will explain how you can send money with cryptocurrencies to users abroad.
Note. This article is for informational purposes only and is not an invitation to do anything. If cryptocurrencies are banned in your country, please be aware of the risks and do not expose yourself to them. The article does not aim to avoid regulations but only discusses a way to simplify money transfers abroad.
Is It Legal to Send Cryptocurrencies Abroad?
In almost all developed countries, transactions with cryptocurrencies are not prohibited. However, various transactions may fall under the control of financial regulators.
In any case, it is necessary to deal with each case and its respective legal framework separately. If buying and selling cryptocurrencies are not prohibited in your country, as well as transferring crypto assets abroad, keep reading this article – it will answer your questions about cryptocurrency foreign transfers.
In any case, before making such transactions, we recommend that you familiarize yourself with the local legislation as well as the laws of the country you intend to transfer or transport cryptocurrency to so that neither you nor anyone else is prosecuted by law enforcement authorities.
Let us say you need to send $20,000 from country A to country B. However, country B only allows you to receive no more than $10,000 from country A within a certain period of time, such as one month. What to do in this case?
You can transfer $10,000 in U.S. dollars, euros, or other currencies. What remains to be determined is how you can transfer the rest of the amount. Let's analyze the available options:
Send $10,000, but at different times. If you need to send the money immediately, this option is not for you.
Convert the entire amount into cryptocurrency and then transfer the digital asset to the user's wallet. There are no restrictions to this method. However, you may encounter some hurdles.
We describe to you how you can transfer funds to another person abroad using cryptocurrency.
Stage 1. Creating a Wallet
Before you can buy and send cryptocurrencies to another user, you must first create a crypto wallet. A crypto wallet is a software for storing and performing other operations with cryptocurrencies.
Users access their wallet assets via a private key (a hexadecimal string of 64 characters) or a seed phrase (12-24 words, depending on the wallet).
It does not matter what wallet you and the user you are transferring cryptocurrencies to will have.
The main thing is that you have the same address format and transfer within the same network, e.g. BTC in the Bitcoin blockchain or ETH in the Ethereum network. Therefore, when creating a wallet and making a purchase, it is important to clarify whether the exchange supports the format of the address to which you want to transfer the digital asset. Bitcoin, for example, has 4 of them:
Legacy or legacy addresses that start with 1
SegWit – an updated address format that starts with 3
Native SegWit or Bech32 addresses – an even newer address format. Starts with bc.
Taproot is the latest format that emerged with the activation of the update of the same name in November 2021. So far, few wallets and exchanges support this address format.
There is also the Lightning Network (LN), a second-tier network built on the Bitcoin blockchain that enables instant and private transactions. However, due to the nature of this new solution, most crypto exchanges do not support LN, as they must comply with KYC and AML regulations.
The choice of a wallet depends on the cryptocurrency you want to transfer: there are bitcoin wallets that can only send BTC and multi-currency wallets that support BTC, ETH, USDT and many other digital assets.
What Cryptocurrency to Transfer?
The most popular transfer options are Bitcoin (BTC), Ethereum (ETH) and Tether (USDT), a stablecoin pegged to the USDT exchange rate. If you are new to the world of cryptocurrencies, these three digital assets are enough.
Important: Before making transactions, keep in mind that only Bitcoin is truly decentralized. Ethereum is not fully decentralized, as developers can make a number of important decisions themselves. And USDT smart contracts are centrally controlled by the Tether issuer, which can block certain addresses by freezing them.
Which Wallet to Choose?
We have compiled a convenient table so that you can choose the right crypto wallet for you.
| | | | |
| --- | --- | --- | --- |
| Wallet | Bitcoin (BTC) | Ethereum (ETH) | Tether (USDT) |
| Ledger | ✔ | ✔ | ✔ |
| Trezor | ✔ | ✔ | ✔ |
| SafePal | ✔ | ✔ | ✔ |
| MetaMask | ✗ (tokens only) | ✔ | ✔ |
| Electrum | ✔ | ✗ | ✗ |
| Trust | ✔ | ✔ | ✔ |
| Exodus | ✔ | ✔ | ✗ |
Stage 2. Buying Cryptocurrency
You can buy cryptocurrency through exchanges or exchangers – for cash and by bank transfer. There are 4 types of cryptocurrency services for exchanging digital assets:
Cryptocurrency exchanges
Offline exchangers
Online exchangers or instant exchanges
P2P exchanges.
The choice of option depends on what currency is originally in your account. For example, if you want to transfer money converted to cryptocurrencies abroad, you do not need to exchange fiat currencies and lose money on the exchange – you can just go crypto.
Important: When buying, pay attention to whether you are buying an original coin or a token. For example, Bitcoin is also available on the Ethereum network as an ERC-20 token. You cannot send BTC (ERC-20) to the wallet of the original Bitcoin network because it is not compatible with the Ethereum blockchain.
Buying Cryptocurrencies on a Crypto Exchange
To buy cryptocurrencies on a crypto exchange, you must first make a deposit in the currency. Most crypto exchanges have a user-friendly interface, so you can easily figure out how to open and fund an account, trade cryptocurrency, and withdraw money to a crypto wallet.
However, in order to work with fiat currencies, crypto exchanges require identity verification (KYC): you can buy cryptocurrencies only against USD, EUR and other fiat currencies after uploading the documents.
Attention! Before opening an account with a crypto exchange and making deposits read the terms of service carefully to make sure that the crypto exchange you choose offers services in your country or in the country where you are a permanent resident if you are abroad.
Here's a list of popular crypto exchanges: 
Binance
Coinbase
FTX
Crypto.com
Gemini
Kraken
ByBit
OKX (ex. OKEx)
Gate.io
KuCoin
Bitfinex.
You can see the full list of available crypto exchanges ranked by various indicators on the respective pages of CoinGecko or CoinMarketCap. A filter by country is also available there: this way, you will quickly find a suitable platform for exchanging cryptocurrencies.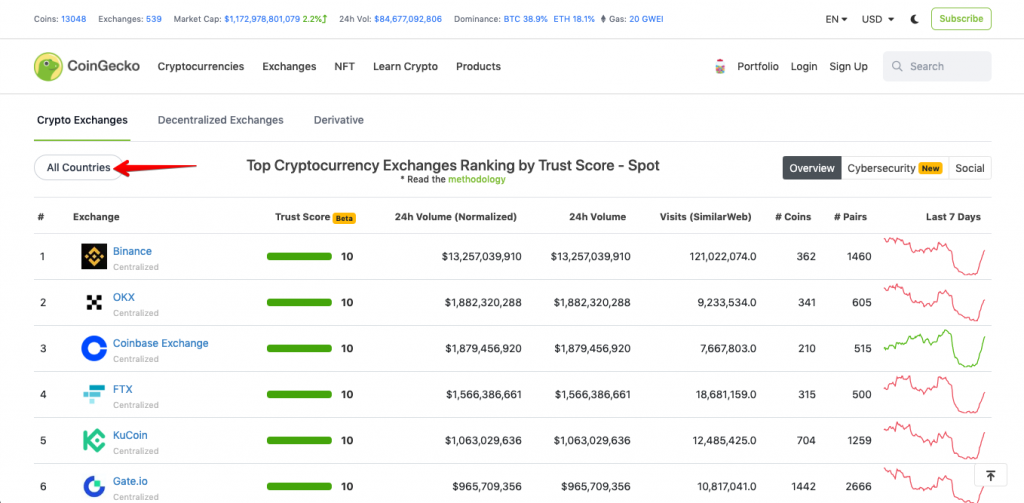 You can fund your account on the exchange through the P2P section of Binance, ByBit, OKX and Huobi Global. To add funds to your account, you need to pass mandatory identity verification.
How the Transaction Works
You add funds to the exchange account (make a deposit) with a card or through a payment system using a billing or P2P platform. In P2P, you can immediately buy a cryptocurrency and send it to your wallet.
Buy cryptocurrencies in the spot market.
Withdraw to the wallet. You can withdraw immediately to the recipient's wallet so as not to pay extra for the transaction.
Buying Cryptocurrencies in an Offline Exchanger
There are physical points for exchanging cryptocurrencies. You can come and exchange the desired amount in cash or by bank transfer. The transaction amount and terms are usually negotiated before the visit.
Also, this method cannot be called anonymous due to your physical presence, even if you do not leave any data behind. Thus, some exchange offices are located in secured facilities, and when you visit them, you must present identification.
This method is most suitable for those who do not trust online sites and want to exchange a very large amount. You can find a seller in a forum or elsewhere, but it is not safe to deal with strangers without insurance.
How It Works
Find a service site and negotiate the deal.
Come to the agreed place and time and make a deal. You transfer the agreed amount to the seller, and he sends the cryptocurrency to the wallet you specified. Complete the transaction only after the transaction is confirmed on the blockchain network.
Buying Cryptocurrency in an Online Exchanger
This method allows you to buy cryptocurrencies anonymously, but you risk falling into the hands of scammers. To reduce this risk, use aggregators like BestChange. However, they do not offer a 100% guarantee that you will not fall victim to a scam. Therefore, if you want to exchange a larger amount, it is best to split it into several parts.
The advantage of online exchanges is that you can buy cryptocurrency quickly, and the method itself is easier than the others, as the coins/tokens are credited to your wallet immediately after the purchase.
You can even specify the wallet of the user you want to send the money to when you make the purchase. However, online exchanges usually charge higher fees, just like offline exchanges.
How the Transaction Takes Place
You choose the platform and the exchange method and create a request to buy cryptocurrency, specifying the wallet you want to send the cryptocurrency to.
The exchanger will send you the data to which you need to send money or issue an invoice.
Pay the invoice or send money to the details and then wait for the cryptocurrency to arrive.
If the amount is large, it is better to divide it into several parts since usually the commission is not fixed and depends on the amount of the transaction.
P2P Exchanges
This is one of the most popular and easiest ways to exchange cryptocurrencies. In P2P exchanges, users exchange cryptocurrencies directly with each other. The platform itself only serves as a guarantor for the transactions and charges a small commission for the transactions (usually between 0.5% and 1%).
Popular P2P exchanges:
LocalBitcoins
BitZlato
Paxful
Bitpapa
P2P
ByBit P2P
Huobi P2P
OKX
Binance
Choose the platform and find an offer that suits you.
Create an application and wait for the seller's details.
Transfer money to the specified requisites. Do not communicate with counterparties and do not conduct transactions with them outside P2P platforms, as you risk becoming a victim of scammers. Before exchanging, carefully study the rules of the platform and the principle of operation of P2P exchanges.
After you send the money, the seller confirms the transfer and the cryptocurrency is sent to your internal wallet. You can withdraw coins/tokens to the recipient's wallet.
Conclusion
If you regularly transfer money abroad, you can buy cryptocurrencies instantly in one transaction and withdraw them to your wallet to send to another person.
However, due to the volatility of cryptocurrencies, the price can change significantly over time. So, take into account the risks involved in transfers and the number of commissions.