The media talk about the new Clubhouse app as "networking on steroids," "the killer of TikTok and Instagram." It was created by Stanford University graduates, Silicon Valley entrepreneurs Paul Davison and Rohan Seth.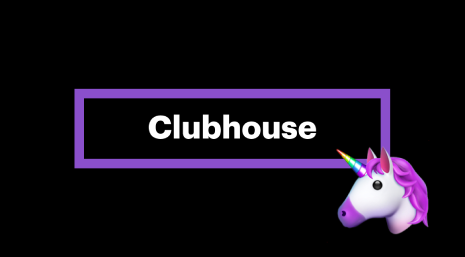 This new application has caused a lot of panic in the crypto world, as it is quite difficult to get into it. Every participant of the crypto space and not only now is interested in what is happening in this application. Today in this article, we will analyze what kind of application it is and what the participants discuss there.
History of Its Creation
In February 2020, Davison and Seth teamed up to launch Clubhouse. They founded the company Alpha Exploration, through which they manage the application. Last spring, against the background of the outbreak of the pandemic, the idea of voice chats turned out to be interesting and in demand.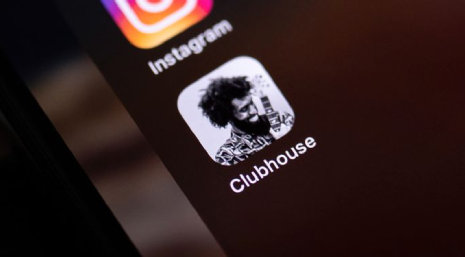 But the social network did not become public for a wide audience. The creators decided to make registration by invitation. They can be obtained from those who have already gained access to the application. As a result, Clubhouse gathered an audience of several thousand people in a couple of months — among them were venture capitalists, actors, political commentators, and pop stars. Clubhouse users include celebrities such as actors Jared Leto and Kevin Hart, as well as Tesla CEO Elon Musk.
According to Sensor Tower, the app has been installed 1.1 million times in the last week. Now it has more than 3 million users, despite the fact that Clubhouse is a closed club. So far, only those who have an iPhone can receive an invitation. A version for Android smartphones is still being developed.
How to Get Into the Club?
Getting into the narrow circle of Clubhouse users is not so easy: you can reserve a nickname and wait weeks for the approval of one of your friends registered in the application. But the main way to pass the "face control" is to get an invitation with a link.
Some smart guys go to the club's Twitter and can get into a Telegram conversation where people help each other get links. To do this, you need to take a virtual queue. But the problem is that many people don't look at the order of people on this list and just ask in the chat who needs an invitation. And then the "hunger games" begin for the right to receive an "invite." People send messages in order to attract attention so that they get the link.
In addition, some, having received an invitation, exit the chat. But they need to invite the next two. So, people face a lack of "invites."
What Is Going on in the Clubhouse?
After going through the pain and humiliation, you can finally get into the Clubhouse. After signing up, you need to choose categories according to your interests. Next, the application will select the "rooms" for you based on your preferences. And you can go to the chat you like, where people communicate only with audio (audio app)— there are no texts or videos.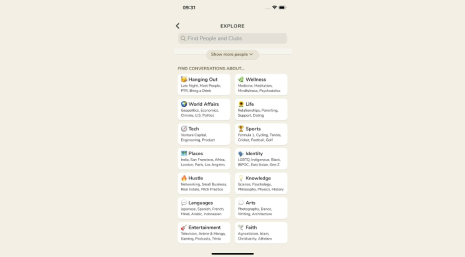 The main rule: there is no recording of conversations, and they are not saved. If you don't have time to join the conversation or listen to Elon Musk — there would be no second chance.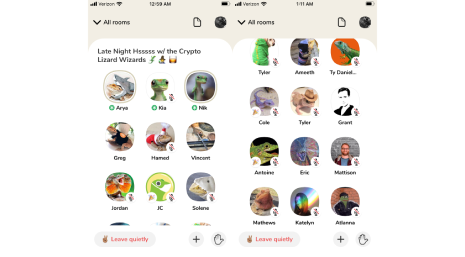 The process of communication goes like this: there are several speakers who talk and share their opinions. Everyone else is just listening. If desired, you can "raise" a virtual hand and, after the approval of the organizer or moderator, also join the conversation. There is no censorship in the Clubhouse.
Who Uses Clubhouse?
The main thing in crypto Clubhouse is the audience. So far, a select group has gathered here. Dozens of Silicon Valley investors, models, designers, and artists were the first to appear on the platform.
In the application, you can meet Elon Musk, who talks about his startup Neuralink, which implanted a chip into a monkey's brain. You can listen to Reddit co-founder Alexis Ohanian or former Twitter CEO Ev Williams. Chat with Jared Leto about fruit disinfection or come to the MC Hammer audio concert. In addition, on February 4, Mark Zuckerberg spoke on AR and VR virtual reality technologies.
How Do Clubhouse Conversations Differ From Podcasts?
Clubhouse is somewhat similar to podcasting, but there are many differences between them:
Podcasts are recorded broadcasts. Clubhouse is a live conversation without recording. If you start "recording the screen" on your smartphone, a warning appears about the violation of the rules and the subsequent ban;
The podcast is distinguished by a good edited sound, the absence of interference, and pauses in speech. Clubhouse is a "here and now experience" with live communication and real life in the background: the sounds of children, cars, dogs, and treadmills;
The ability to ask an expert a question is the main difference and the main advantage of Clubhouse. Podcasting is simply broadcasting audio content without communication of listeners with presenters and guests.
Rating of Clubhouse Rooms
In Clubhouse, you can chat with friends, popular bloggers, media personalities, and celebrities of any level. So what are the most popular chats:
Alon Goren (@alon)
Alon Goren is the founder of Draper Goren Holm and a fund focused on early-stage blockchain startups.
Dan Held (@danheld)
Dan Held is the head of growth at Kraken, a very well-known exchange.
Antony Pompliano (@Pomp)
We can definitely say that the crypto account list would be incomplete without Pomp. At this point, he's a part of the mainstream.
Cory Klippsten (@CoryKlippsten)
Cory Klippsten is the founder of Swan Bitcoin, a very well-known Bitcoin exchange. He has a really strong presence in Clubhouse and often heads Bitcoin-centric rooms and discussions. Some may consider him a bitcoin maximalist, but how can you blame him?
Mattison Asher (@theether)
Mattison Asher works for ConsenSys and is a crypto vet. He's been in the game for a while, and it shows in his Clubhouse rooms.
Results
If you are interested in crypto, crypto community, bitcoin, trading, blockchain technology, and all future technologies, then this application is for you. The only thing is that you should be ready to spend a lot of time in advance to get an invitation to the club because it's not easy at all, but it's worth it. It is an amazing place without censorship and rules. However, all chats are perfectly organized. And the most important thing is the high security that the crypto club supports.