A non-fungible token is a means of providing proof of ownership on a blockchain. Tokens can be issued for various purposes, including entertainment, gaining income, creating a unique community (e.g., Bored Ape Yacht Club), or marketing. Tokens are based on digital and tangible assets. Technically, a token is a digital file written on a blockchain as a smart contract. Before explaining how you can generate your first NFT, we would like to take a look at some basic concepts.
An NFT Marketplace
Marketplaces are online platforms where anyone can buy or sell an NFT. They also offer their users features to create new NFTs. Platforms have two interfaces, one of which is a catalog where potential buyers can search for new pieces of NFT artwork.
Some platforms such as CryptoPunks or Axie marketplace are based around a specific theme such as a particular NFT (the former) or a game (the latter). Most platforms are simply all-around NFT marketplaces that allow users to create NFTs in any sphere.
Binance Smart Chain
This is one of the most popular resources for creating an NFT (although it is not available to everyone). To register an account, you need to undergo a complete authentication procedure, including providing your passport data. You also need to fill in a questionnaire and explain your reasons for creating an NFT and who you are going to create it for. So far, most marketplace users are NFT artists and brands.
The fees are low compared to the Ethereum blockchain.
OpenSea
This is the first NFT marketplace that was launched in 2017. It allows users to list an NFT collection on Ethereum or Polygon. It is easy to create and list a token, but the fees for the Ethereum blockchain are rather high, reaching 2.5%.
Rarible
The first NFT platform from Russia. It is characterized by low transaction fees and the possibility of passing them on to the buyer. You can also create a token using this platform.
Mintable
Mark Cuban's project stands out from other similar NFT platforms by the fact that it has its own token MINT that can be used to make additional profit. MINT is a governance token that allows holders to participate in voting and management.
NFT Collection
This is a series of tokens related to a specific concept, such as images or music. Single non-fungible tokens are created only if they have high artistic or intellectual value. It makes more sense to create many NFT collections that, similar to sticker packs and gaming artifacts can bring together fans united by common interests.
Digital Assets
They form the foundation of an NFT and create value. Most often, this is an image, but it can also be a music piece, a book, a movie, or even a tweet. The digital consumer market is actively developing, and many major companies are starting to sell an NFT — virtual copies or unique models related to their brands.
For example, Nike is planning to issue its own NFT collection and has already purchased a digital studio to do that. Adidas has announced its partnership with CoinBase. Quentin Tarantino has opted to make an NFT for seven uncut scenes from Pulp Fiction. MGM Studios issued collectible virtual tickets to a major movie theater release that had been postponed due to the pandemic. The tokens sold out in several minutes on the VeVe platform.
How to Mint an NFT on OpenSea
Tokens can be sold both at a fixed price or at time limit auctions. In order to make an NFT, let us first go to OpenSea.io. The system offers new users to connect via a digital wallet.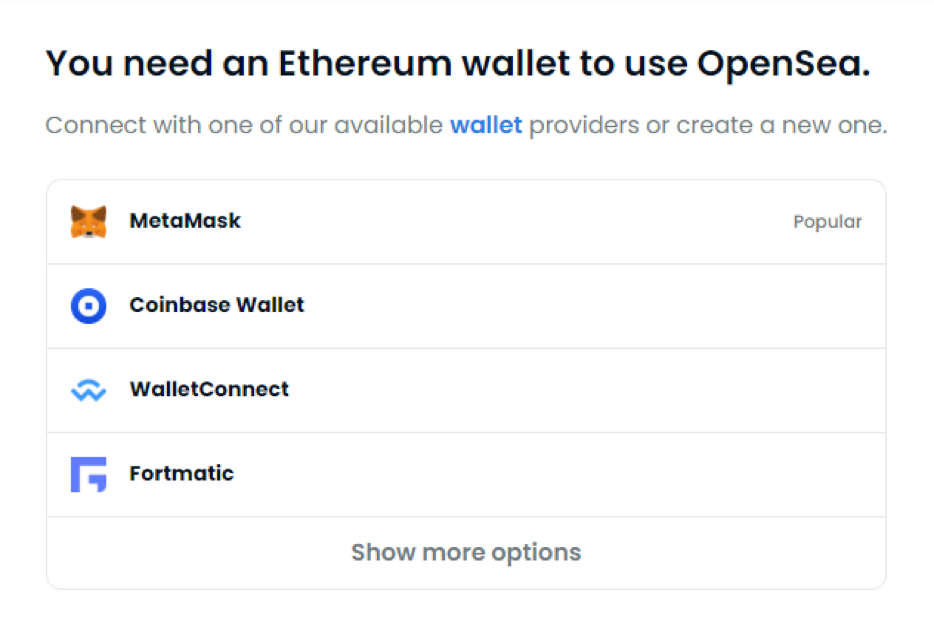 We will use MetaMask Wallet for Google Chrome. The extension can also be installed on Mozilla, Edge, and Brave. Another option is to install the wallet on your mobile device (either iOs or Android).
In the Chrome web store, find the MetaMask page and install the browser extension. Sign up or log in to the system if you have previously used this program. When you first sign up, it is necessary to follow all steps of the registration procedure. Make sure to write down the secret recovery phrase because it can later be used to recover access to the digital wallet.
If you know the recovery phrase but you have forgotten your password, go to the import section and enter the secret phrase. After that, enter a new password, confirm it and proceed to use the features of the extension.
Return to OpenSea and select MetaMask. Available accounts will be displayed, and you need to choose the one that you would like to use.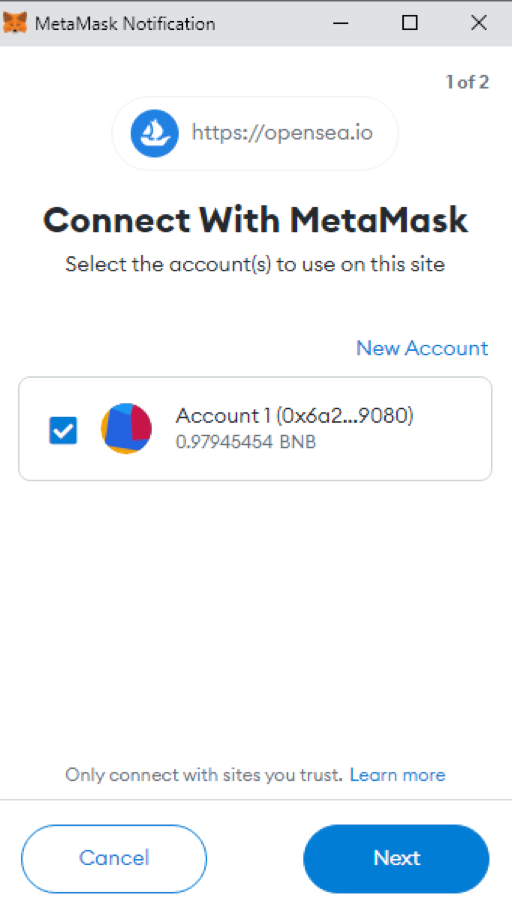 Now you have registered an account on an NFT platform and can see a profile icon in the top right corner.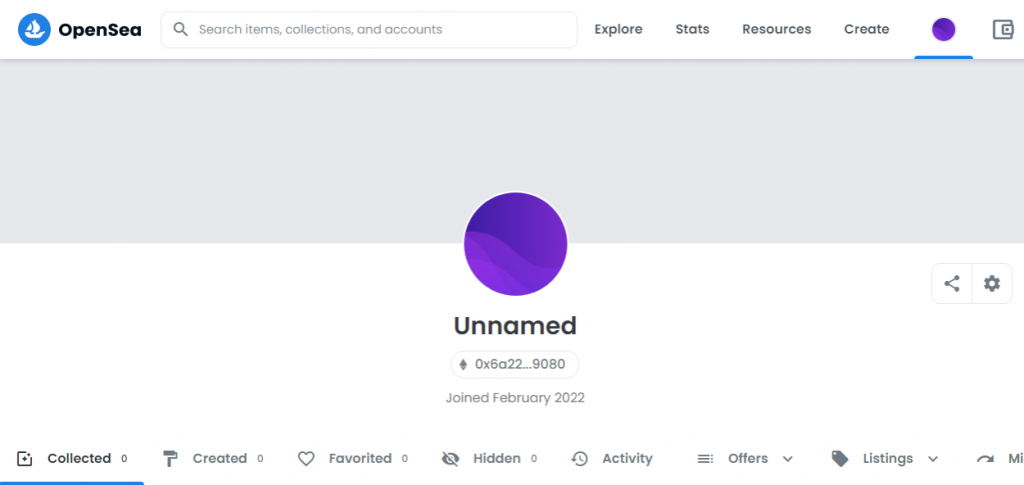 Creating NFT on OpenSea
Click Create, and a pop-up window will suggest confirming your crypto wallet.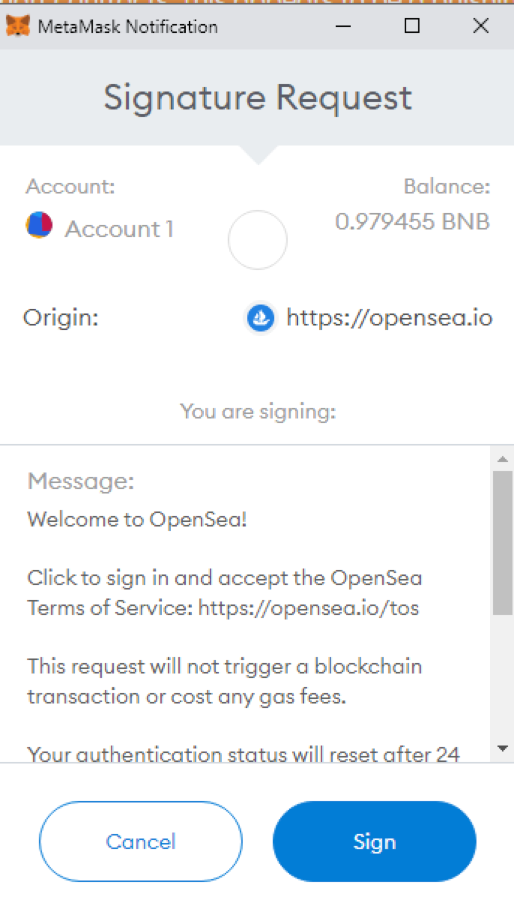 Click on the blue button, and you will see the interface for creating a new NFT. Upload a digital asset that you would like to sell on the marketplace. Enter the name and description.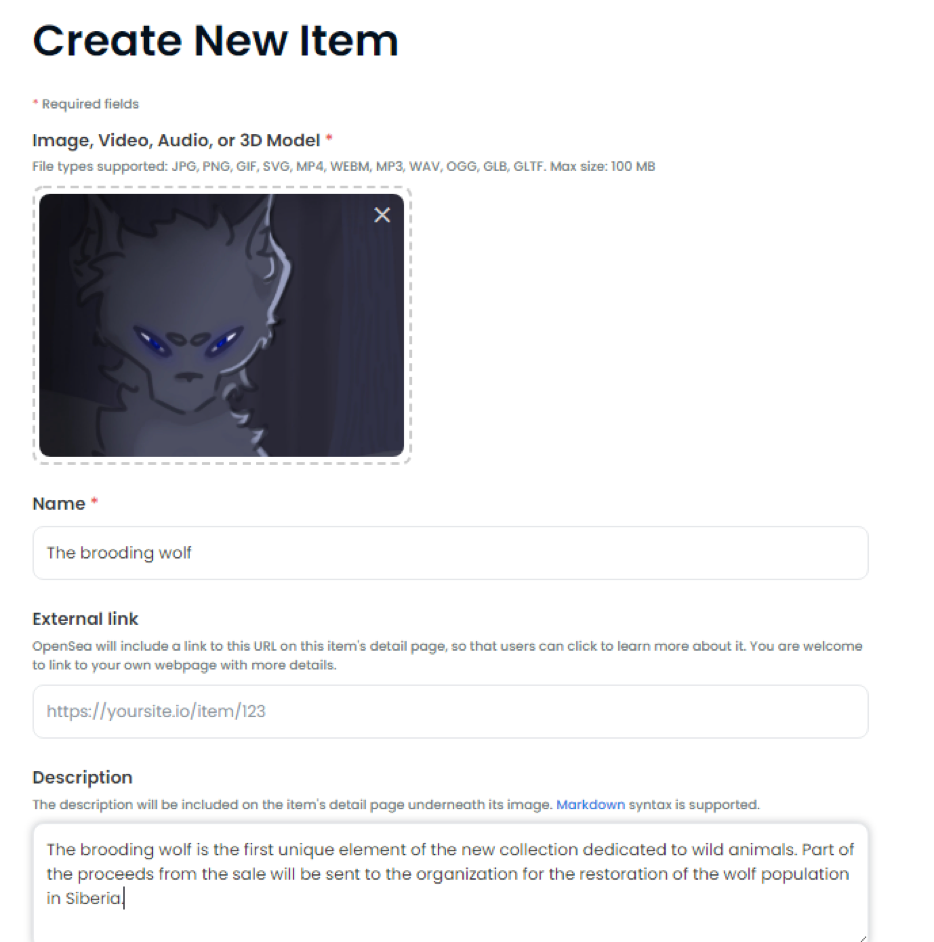 You can set up the following parameters:
properties – additional information that is displayed below the item;
levels – numerical traits that show the significance of the item within the NFT collection: for example, for gaming attributes, a higher level corresponds to higher strength;
stats – the number of copies sold (if you are selling more than one item);
unlockable content – this feature is used if the unique digital asset offers some additional digital content, for example, if you are selling a book and the token represents its cover;
explicit & sensitive content – this switch can be toggled for confidential content such as adult-themed content meant for users aged 18 years and older;
supply – the total number of NFT copies that can be minted;
freeze metadata – you can protect the token from any changes in the metadata.
On this page, you should also choose a blockchain for your tokens. Most users choose either Ethereum or Polygon. The former is considered more reliable, but it comes with higher fees. The latter does not charge fees for token creation, but according to experienced users, there are many scammers.
Click "Create" and see what your item will look like.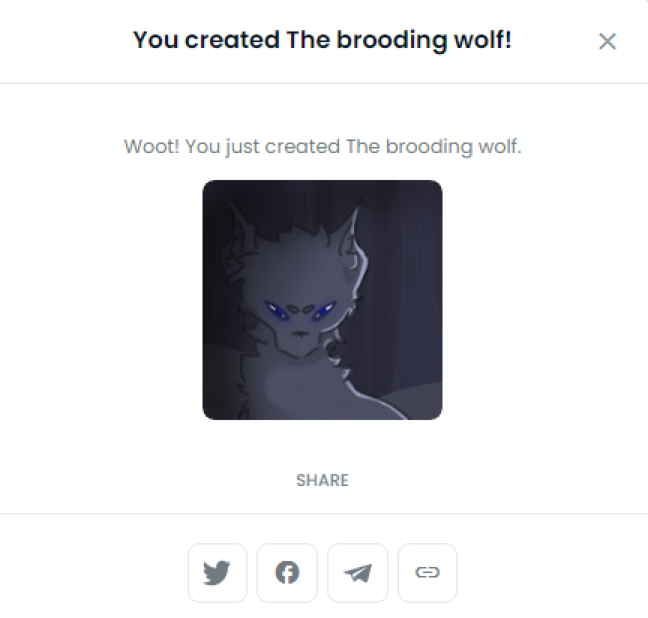 You can share it on Twitter, Facebook, or Telegram. Or you can also copy the link and promote your first NFT collection on other platforms.
On the NFT page, you can find various information, including the time it was minted, its address, and price history.
You can also edit your token here or proceed with an NFT sale. Click Sell and link the item to a certain blockchain in your crypto wallet. All data will be provided automatically: all you have to do is to confirm the connection.
Select a fixed price. Note that the NFT platform charges a 2.5% fee on all NFT sales.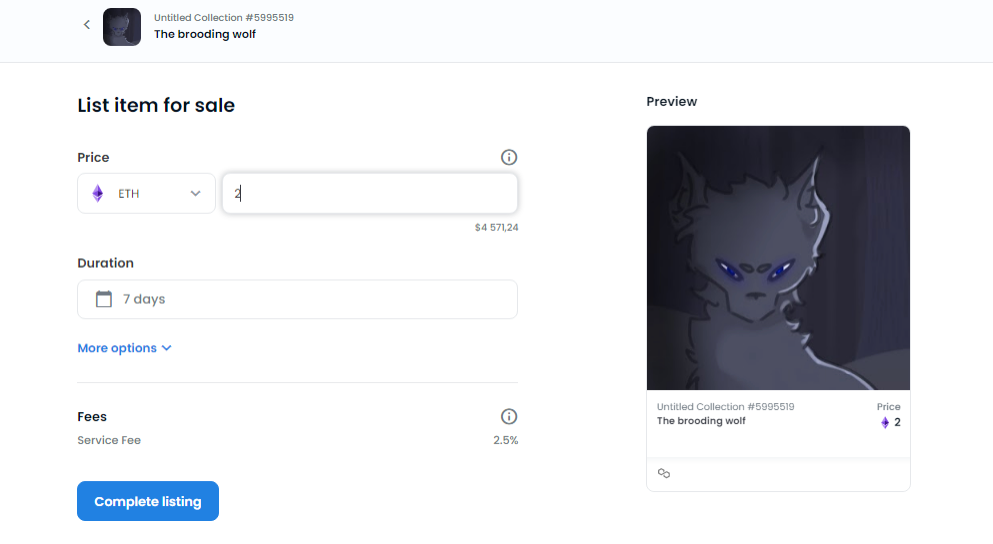 The next step is unlocking the cryptocurrency wallet to allow the system to transfer funds to its address.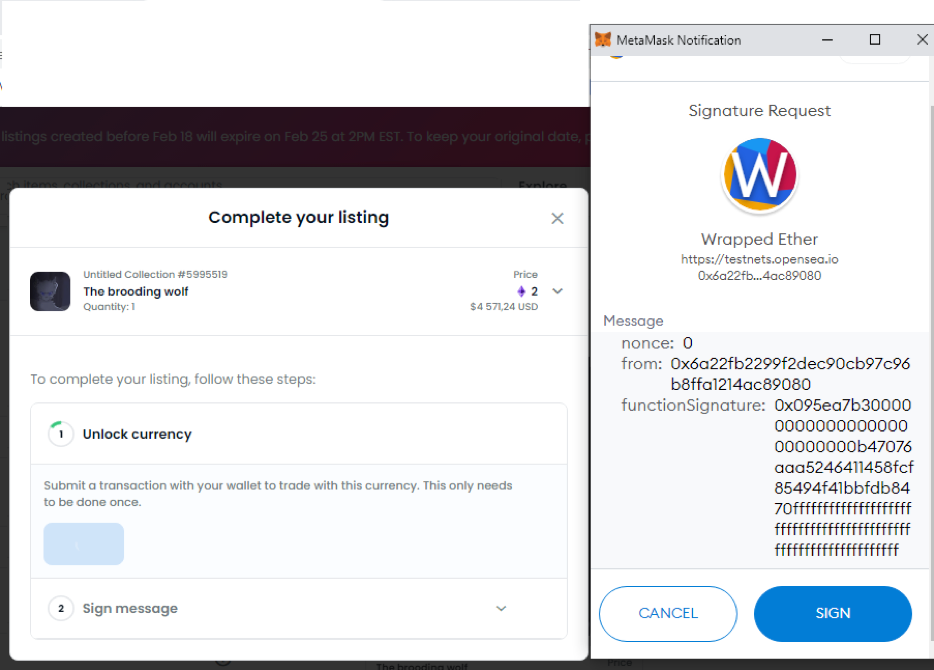 The digital wallet must have the same currency as the one you use to sell an NFT.
The minting process of your first NFT is completed.
How to Make NFT for Reselling
The process that is used to mint NFTs is the same as above, but there is another important step to be taken – you need to create an NFT collection. In the collection's settings, you will specify the fee received by the creator every time the item is sold to a new owner. For example, NFT artists and athletes issue digital collectibles that are bought by fans who often swap their collectible items. With each such transaction, the content's creator receives a share.
For creating collections, click on the profile icon in the top right corner.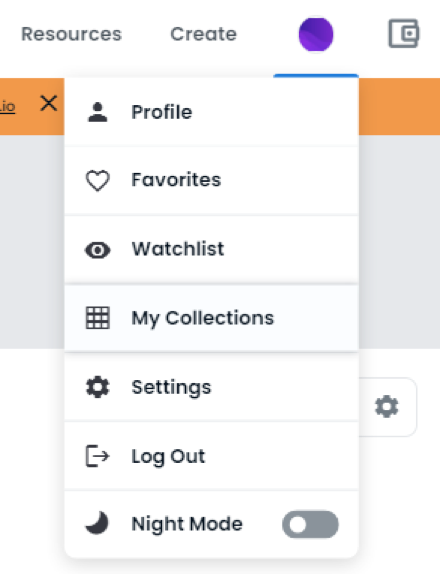 Click My Collections to open an interface with a button for creating an NFT collection. Click on this button and proceed to adjust the settings.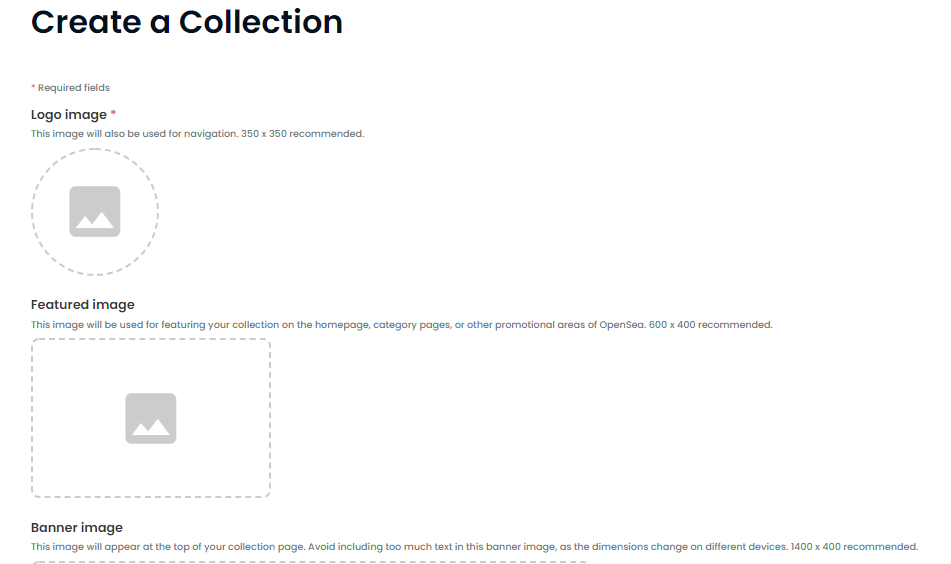 You need to upload three images:
a logo;
a popular featured image;
a banner.
The Name field is for the collection's name that should describe the basic idea. Here you can also provide a link to your advertisement. In the description, you should specify why your offer is useful and what the hype is about.
In the links section, you should add your social media accounts. In this way, if potential buyers become interested in your work, they will have more channels to connect with you. You can also set up your own fan club.
Re-selling fee – Creator Earnings. This fee should not be too high, and its amount usually depends on the creator's popularity. If the NFT has a really high value, buyers are willing to splurge.
You can specify a percentage fee and the cryptocurrency wallet address where you wish to receive the money.
If you prefer not to pay a transaction fee for the NFT creation, choose the Polygon blockchain.

Finally, choose the collection theme and the order in which the token's assets will appear.
After a collection has been created, you can move the same NFT there. To do that, choose a token, click Edit and select the name of the collection.

Now your NFT belongs to a collection.
How to Create an NFT on Binance
Binance has only recently launched a service that allows users to mint NFTs. Verification usually takes several days, which may be inconvenient. However, the developers have already promised to change that and open access to everyone.
How to Make an NFT on BSC
Open the Binance website and follow the NFT link in the menu. On the front page, you will see the most popular NFT collections and creators. To get access to the platform's tools, sign up or log in if you already have an account.
To be able to mint NFTs, you need to submit a request. The verification process sometimes takes up to two weeks.
Just like on OpenSea, you need to connect a wallet. It should be compatible with the native cryptocurrency of the selected blockchain. Binance suggests using MetaMask and Trust Wallet – both of these platforms support numerous blockchain options.
Fill in the application form, adjust all the necessary settings, the price, and list the token. The transaction fee is quite attractive at only 1%.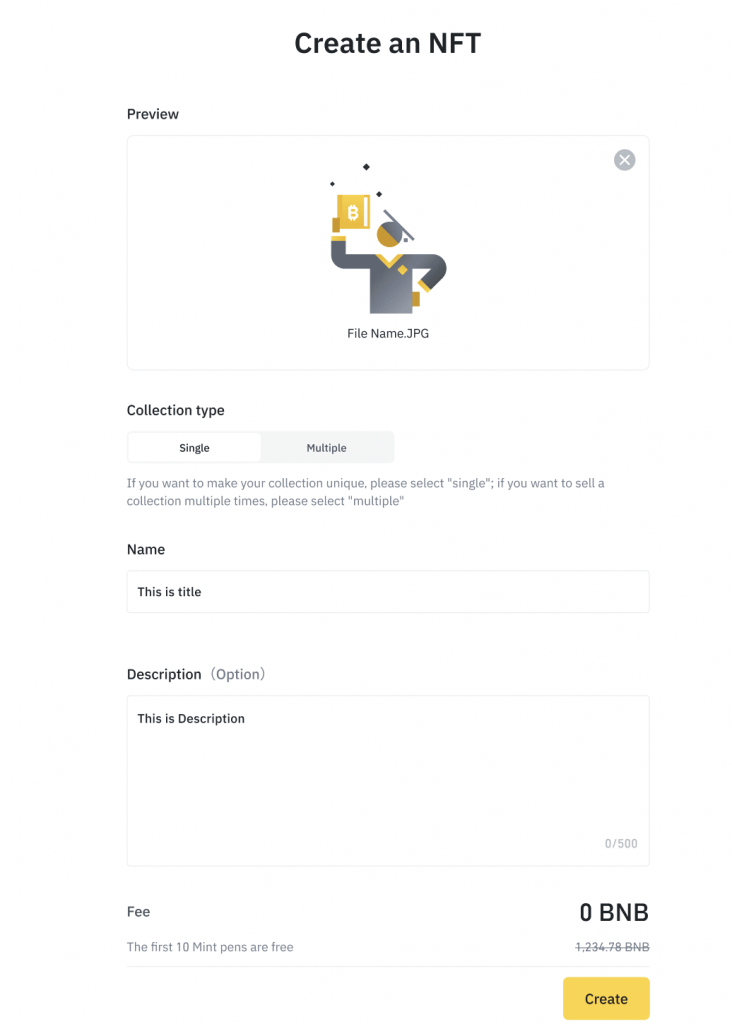 Moreover, minting NFTs is free for the first 10 tokens.
Creating NFT on Rarible
Rarible is another NFT marketplace where you can mint your own NFT. You can sell your NFT at a fixed price, at an unlimited auction, or upon request. You can connect to the marketplace using a cryptocurrency wallet such as MetaMask, Fortmatic, WalletConnect, Coinbase Wallet, or MyEtherWallet.
At first, you need to choose the blockchain you would like to mint the NFT on Ethereum, Thezos, or Flow.
Then you need to choose whether the token will be a single edition (based on the ERC-721 protocol) or multiple editions (based on the ERC-1155 protocol).
After you upload an image, choose the type of NFT sales.
Fixed Price – the asset's price is fixed.
Open for bids – anyone can make their own offer to buy this token. You do not need to set the price yourself.
Timed auction – an NFT sale in the form of an auction where the creator sets the minimum price and the starting/ending time.
For the first NFT, it is better to choose a price and not a timed auction. Choose the collection — either the one offered by default or your own.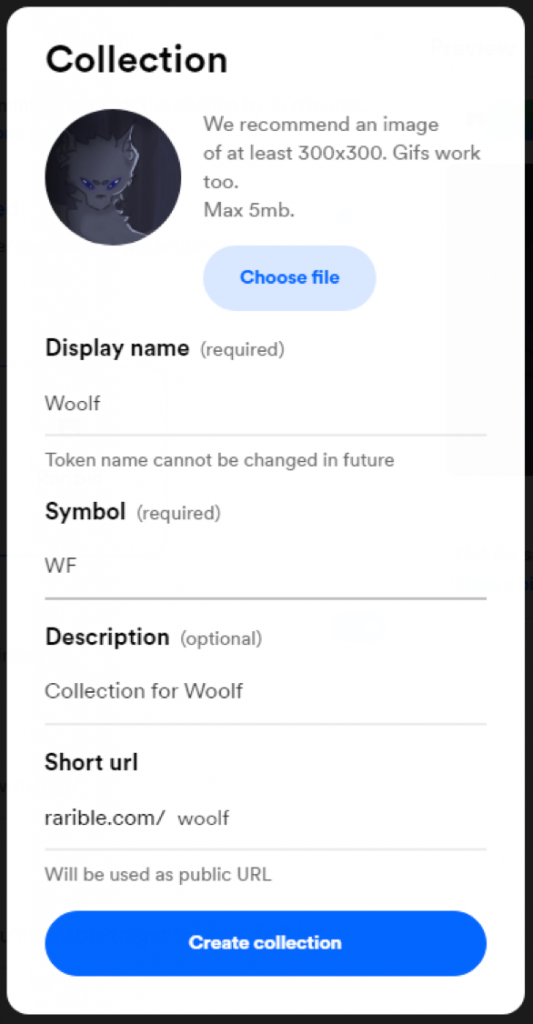 However, you will need to pay gas fees for this operation. At the time this article was written, the fee was just below $80 or 0.03 ETH. By monitoring your wallet, you can track the changes in the fee size. It depends on the network demand. If you wait, the fee size might go down.
The Free minting option allows you to charge the gas fees from the buyer's wallet. If this option is enabled, you could mint the NFT for free, and the fees will not be paid until it is bought. This is very convenient because it helps you save some money.
After that, you should upload an image or another unique digital asset, enter the name and description, adjust the settings (that are basically the same as on OpenSea, such as unlockable content), and specify the royalty percentage for reselling. Click Create Items. You have successfully created a token.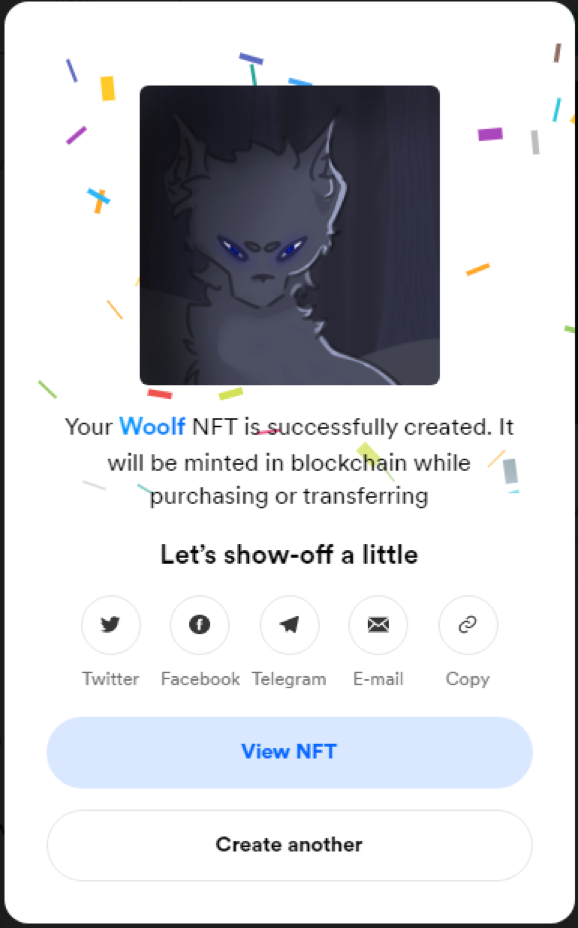 Why You Might Need to Create an NFT
It is very easy to create an NFT – all you need is digital assets, a small sum in your crypto wallet, and several minutes of your time. However, NFT marketplaces are already full of items — even if they are very high-quality, they can struggle to grab the attention of potential buyers. There is no point in creating your own NFT just for the fun of it or trying to earn money by selling NFTs because the time when non-fungible tokens were bought simply because of their NFT status is over.
Currently, an NFT has become a marketing tool, and to profit from such tokens, you need a comprehensive strategy. Therefore, an NFT is a powerful instrument for promoting yourself as a creator, your brand, or your product.
How NFT Projects Become Popular
The ICODA Agency has vast experience in DeFi marketing. We have a team of analysts, programmers, designers, and digital creators. Based on our experience of supporting blockchain startups from an initial idea to a launch, we have determined several basic steps that will help you to make the best of your NFT ideas.
Analyzing the General Project Strategy
An NFT should complement your project by being part of a marketing campaign or a promotion tool. This is why you need to know from the very beginning where, when, and how you will mint and distribute your tokens. Are you going to give them to your first followers? Or maybe you will organize a raffle? Later, when you start to sell NFTs, you will need to monitor the sales process closely in order to regulate the price and the number of tokens.
Finding Your NFT Niche
An NFT becomes part of your idea, and you need to analyze the situation to find the exact stage when you are going to launch your tokens. This determines their presentation.
Design and Content
The NFT content will depend on your business sphere. The most popular option is media content (an image, audio, video, or a 3D model). Here at ICODA, we will help you to go beyond these traditional choices. You can create really valuable content for your followers, such as guides, lessons, books, and video tutorials. If you belong to the entertainment or digital art industry, we will also come up with and design really unique NFT options.
NFT Creation
Every NFT artist in ICODa is an imaginative person. NFT creators will make every effort to create a unique perfection.but
Promotion Strategy
There are three main factors that contribute to the promotion of an NFT: hype, environmental friendliness, and popularity. ICODA experts will find out what tools will be perfect for your requirements and, if needed, organize a balanced combination of various instruments. We always strive to achieve the best possible outcome and consider all available options to promote your business in the most efficient way.
Conclusion
It takes only five minutes to create an NFT. However, if you would like to make a profit from your NFT art or use tokens to promote your brand, it will take much more than simply uploading an image to an NFT marketplace.
Remember that the world's most expensive token, the NFT artwork from a user known as Beeple, combined 5,000 images and took Beeple over 5,000 days to create. A 14-year-old girl became a millionaire overnight with her first NFT when she and her older brother came up with a promotion concept based on saving beluga whales.
It might seem that it only takes three clicks to get rich. However, any NFT is a combination of an idea, creativity, and hard work. The ICODA team has all the necessary skills and is ready to help anyone who is willing to enter the world of blockchain technology.