Memes have been an integral part of the crypto community since its inception. In recent years, we've seen the rise of meme coins like Dogecoin and Shiba Inu, which have garnered a massive following and had their prices rocket to the near Moon. One such meme coin that has gained notable success is the PEPE token. The success of PEPE and other meme coins showcases the power of viral marketing and community building. In this article, we'll explore the PEPE token's journey and its future potential in the cryptocurrency landscape.
What's in a Meme Coin?
Albeit lacking 'serious' financial fundamentals, meme coins serve a unique purpose. They serve as an entry point for newcomers, providing a gateway to the world of cryptocurrencies. They also add to the overall market capitalization and trading volume of the crypto market, further legitimizing their role in the space. And they do so, of course, by coming off as adorable and relatable, drawing straight from the power of their underlying memes.
What Makes a Successful Meme Token
To create a successful meme token, you need to choose the 'right' concept. The Pepe token creators struck gold by opting for the iconic Pepe, a character that has been featured in countless memes for over a decade. This choice has garnered them a plethora of free artwork that they actively use on their social media platforms. They also scored unlimited access to comical animated videos known as "Pepe Lore," made by enthusiasts from around the world.
The Pepe token team's savvy decision to choose such a widely recognized face has given them an unparalleled advantage. Right from the get-go, they had a treasure trove of free creatives that they could use for various purposes: from social media marketing to website building. In doing so, the creators of the Pepe token have set themselves up for a wild ride to the top.
$PEPE Technicals So Far
As of this writing, PEPE tokens can be traded on major centralized crypto exchanges like Binance, OKX, and ByBit. The PEPE/USDT trading pair on Binance has the highest trading volume of $131,857,769. However, as of mid-May 2023, the PEPE token's trading volume dropped by -47.90% to $418,233,524 in 24 hours. The ATH for PEPE was $0.00000431 on May 05, 2023, while ATL was $0.000000055142 as of April 18, 2023.
Currently, PEPE has a market cap of $785,760,298, with its Fully Diluted Valuation clocking the same amount. The maximum supply of PEPE so far has been 420 trillion tokens. PEPE has outperformed the global crypto market with a 65.20% price increase in the past week, while its peers in the Ethereum Ecosystem are up 12.70%. The PEPE token's market capitalization has also soared to over $150 million USD, with a trading volume of over $5 million USD per day.
As of May 2023, the PEPE token has continued to ride the wave of momentum from the meme coin craze. The project's community has grown significantly, with over 500,000 holders and an active online presence across various social media platforms.
How PEPE Ruled the Meme Coin Scene
PEPE's success can be attributed to its strong community and lighthearted nature.
But most importantly, the creators have been pulling a mastermind marketing campaign, generating tons of FOMO among investors. Combined with the thrill of being able to trade the beloved meme, it saw the token's trading volumes explode, along with its perceived value.
However, the recipe for a meme hit token doesn't end with a face. You also need a lively and engaging approach to content creation. Luckily for PEPE, it excels in both aspects. The froggy memes irresistibly grab attention and elicit strong emotions from viewers. The meme itself is now near-ubiquitous. Each artwork is distinct and showcases a unique emotion. Each Pepe is bright and instantly relatable. Whether you're feeling happy, sad, smug, sexy, annoyed, or any other way – there's almost certainly a Pepe feeling the same way. The apt choice of character helped the PEPE token to establish a strong brand identity.
Another key driving force behind PEPE's success is its devoted community. The token's followers are always active on social media platforms, promoting the coin organically by sharing memes that fuel the flame of fame. This strong sense of community has played a pivotal role in generating buzz and attracting new investors to the token.
Perhaps the most interesting bit is that the project, having gained the traction it did, was meant as a literal joke with "no roadmap" and "no expectation of financial return," as per the official web page. Even after its booming success, PEPE has not conducted any airdrops, staking, claims, mints, raffles, giveaways, etc. What's more, the PEPE team made it clear that it was not and would never be involved with any other tokens or projects. This further cemented the air of exclusivity around the project, driving up sales and the figures on the holders' wallets.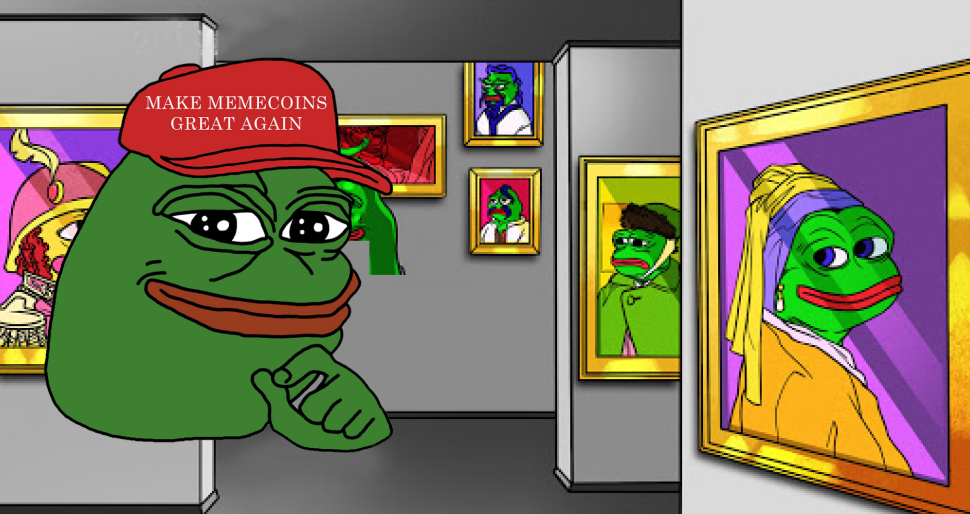 The Secret PEPE Marketing Techniques
Posting Like a Pro
A key factor in PEPE's marketing strategy is its canny use of savvy media. The project chose to make several advertising publications with a certain frequency rather than relying on one-off posts, as many other projects do. The regularity of these publications has boosted the audience's perception of the token, driving up its perceived value and the hype around it. It showed users that the project has solid support from large bloggers rather than settling for single sponsored mentions. This served as a sign that the project is carefully monitored and is overall trustworthy. This approach makes it more likely that other bloggers will pick up on the token and talk about it to their own audiences for free, generating a significant amount of organic traffic and all the more hype.
YouTube Hype Done Right
Apart from the frequency of publications, we need to consider their total number as well. Going on YouTube, you can't help but notice a huge number of videos on the token. The project spared no expense on purchasing placements from opinion leaders from all over the crypto space. As a result, smaller channels eagerly picked up on the hype and started releasing free videos for their own views, which resulted in an even more epic surge in PEPE's popularity.
Openness Is the Key
Another not-so-obvious approach to success is that the project didn't aim for a large audience until the token was available for trading. This strategy worked wonders, as anyone interested was able to invest in the token right away without having to follow the roadmap and wait for updates. This approach helped to gradually ramp up liquidity as the project grew large.
Dare to Contest, Dare to Conquer
Another key charm component of the Pepe Token is its fearlessness in battling other meme tokens. The whole 'dog era coming to an end' schtick resonated deeply with the average Dogecoin enjoyer, helping PEPE garner a fervent fan base in no time at all. The project has no mercy in its jabs at other meme tokens, excelling at meta-humor while remaining true to its core. This draws in a wide and passionate audience that is fully committed to championing the frog cause.
No Shame in Flaunting
Upon a closer look at the project's channel, one can also note that every 15 minutes, there's a screenshot of transactions with the token boasting thousands of percent of profits. As blatant as it may be, this was a power move to keep the audience on the hook, craving for some PEPEs.
From Frogs to Riches
Diving in the sea of PEPE-themed content, you'll notice a 'catchphrase' (or mantra) repeated persistently across media: from $27 to $1 million. This is how much the project claims to have made early investors. The phrase has persisted throughout the project's lifetime, starting from the earliest articles and YouTube videos. Given how boastful and catchy it is, it's not unlikely that the phrase was initially spread by the creators. If that's the case, they likely hoped it would bring a lot of organic mentions and buyers to the project.
In Conclusion
Wrapping up, it's fair to mention the obvious: meme coins are not meant as 'serious' investment vehicles. They're essentially social and financial experiments, each one assuming both success and failure at launch. Some of them take off, as PEPE did, while most others disappear into oblivion before they even get talked about. It's important to remember that early investors are often the only ones that really benefit from meme cryptos, and it's almost impossible to know in advance which one will shoot and which one won't. However, as time goes by, we get more and more success stories, which could help us navigate the meme coin scene with a bit more certainty.